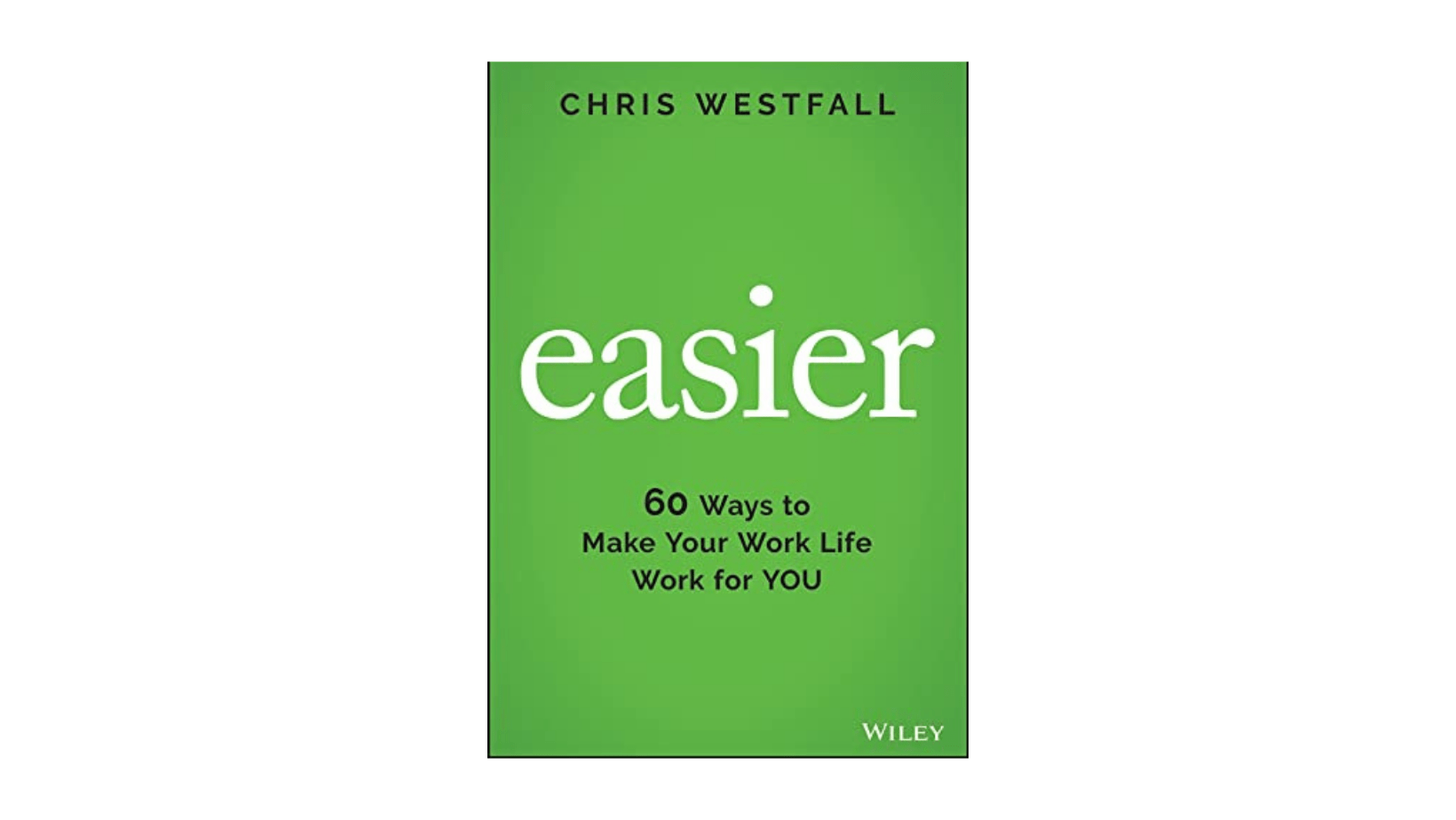 Make Your Career, Your Relationships and Your Life Easier
Navigating work deadlines, relationships, expectations and conflict eventually takes its toll. You want to be productive. You want to engage. But there are days when everything just seems so … hard. If there were a way to make your situation less complicated while serving yourself and your clients more fully, more completely and more powerfully, would you try it?
"Easier always exists," said business coach and bestselling author Chris Westfall. "Even when life isn't easy, there's a way to show up that makes difficult circumstances easier."
In his new, aptly titled book, Easier: 60 Ways to Make Your Work Life Work for You, Westfall delivers potent strategies aimed at helping everyone — from leaders to entrepreneurs to athletes — overcome distractions, deal with difficult people and be easier on themselves, all while channeling peak performance.
Easier is written in a narrative style reminiscent of The Go-Giver, The Goal or Five Dysfunctions of a Team. Westfall's book unfolds as a conversation between the client and his coach, where new ideas and new possibilities emerge from the most unlikely places. The client is frustrated with work and ready to quit. He wants to know why he can't seem to get ahead, and he's looking for the courage to start something new. Little does he know, his pink slip will arrive in five days.
From this life-after-career-death story, new discoveries bloom, revealing 60 insights into resilience, resourcefulness, self-leadership and more. With each new concept, readers will find their perspectives shifting, from "How do I get through this?" to "What can I get from this?"
"They say there's nothing that can stop an idea whose time has come," Westfall added. "People around the world are looking for more personal freedom, more encouragement and more possibility. Easier is the hold-your-handbook to a new way of looking at life, especially when you are facing hard times. The Great Resignation isn't so great if you don't understand how to make your life, your work and your relationships … easier."
About the Author
Chris Westfall is one of the most sought-after business coaches and keynote speakers in the world. He has helped launch over five dozen businesses, and has appeared on ABC NEWS, NBC TV and CNN. A regular contributor to Forbes, he has worked with thousands of leaders at Fortune 500 companies, nonprofit organizations and high-tech startups. A coach to entrepreneurs and executives around the globe, his clients have appeared on Shark Tank, Dragon's Den and Shark Tank-Australia. He regularly consults with top-tier universities and is the author of three other books, including Leadership Language.
For more information, please visit http://westfallonline.com or http://easier-book.com. You can also follow Westfall on Twitter (westfallonline), Instagram (westfallonline) or Facebook (easierbook).