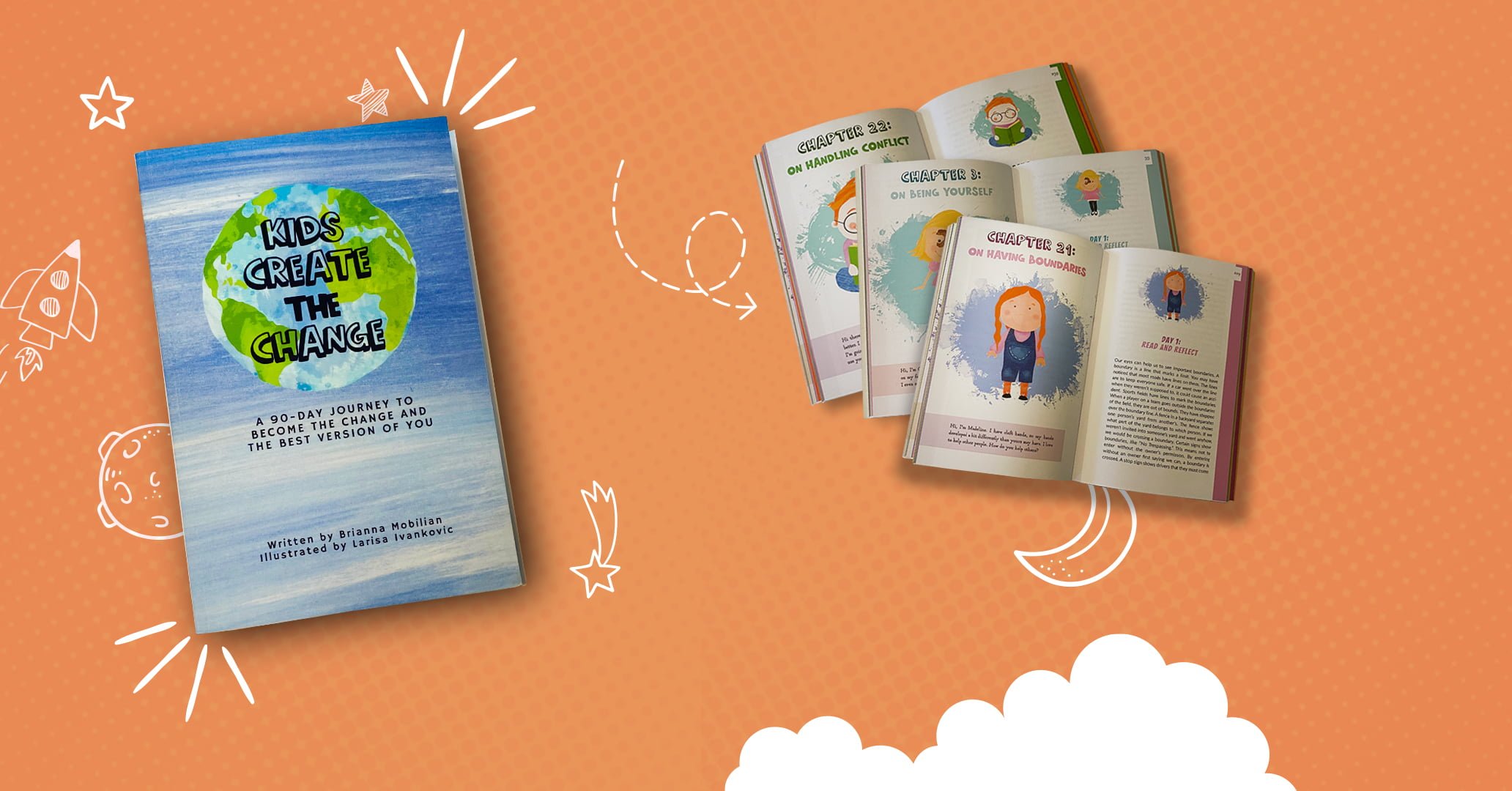 Interview With Author Brianna Mobilian
Brianna Mobilian is a children's meditation teacher, author of Kids Create the Change, and mindfulness and gratitude practitioner. She's also the creator of tools that empower children to thrive emotionally. Her children's affirmation and meditation cards are sold on her company website: www.KidsCreatetheChange.com, where she will be adding new products in the coming months. Ms. Mobilian is currently booking virtual author and motivational speaking tours at nationwide elementary schools.
Hello Author Brianna Mobilian! We are pleased to have you on here for an interview. You are launching your first book, Kids Create the Change. So exciting! What prompted you to write this book?
Kids Create the Change felt to me like a book that needed to be written. As parents, we often want to teach our children essential values but aren't always sure how. I wanted to create a meaningful journey for children and a parent to share quality time, enhance the parent-child connection, and gain priceless values and skills. Additionally, I wanted families to have a keepsake of their journey to coincide with the amazing memories they make along the way.
If you had thirty seconds or less to say what Kids Create the Change is about, what would you say?
Kids Create the Change is an amazing 90-day journey that teaches kids how to be the best version of themselves while inspiring them to create positive change in the world around them. Readers are taken on a journey of self-discovery, reflection, and inspiration with their parent. Each day brings a new lesson or adventure through thought-provoking messages, empowering activities, or guided reflections in the book's journal pages. Children also discover acceptance through the chapters and thirty beautifully illustrated and diverse characters.
This sounds amazing! Can you tell me more about what the chapters cover?
Each chapter covers a thought-provoking topic to help to deeply root values into a child. Written in a non-judging and affirmative tone, some of chapters include: being mindful, having boundaries, handling conflict, being enough, and having grit. Children will have an understanding of some of life's big questions like: how is it possible to be rich without having a lot of money? Or, what does it mean to have an inner compass and how can it guide them?
Some of these concepts seem much wiser than what's traditionally in a children's book. How do you get these messages across in a way younger children can understand?
I was intentional about introducing concepts at a level that children can developmentally understand. Examples are relatable, vocabulary is defined on words that may be new, and comparisons are provided to add context and clarity. With that, children are also exposed to priceless messages that cause them to use a bit of higher thinking as well.
I'd love to learn more about the activities that are found in the book. What can you share?
Each chapter features two engaging and practical activities that are all about teaching inspiring messages in a way that a child is actively involved throughout the process. The activities bring a sense of adventure, while also being intentional enough to teach a valuable lesson. Thirty activities help children become the best version of themselves. Children may be able to better recognize restricting beliefs and release them, raise the bar to live with more integrity, replace insecurities with confidence, and free themselves to live authentically. Thirty more activities inspire children to create real and positive change in the world. They may be empowered to become more selfless, open their minds to differing concepts, develop empathy, and enrich their emotional intelligence.
Why did you choose to cast a diverse set of characters in Kids Create the Change?
The illustrations are an important component of Kids Create the Change because I wanted every child to gain acceptance of themselves and others through the art. The thirty characters represent a range of cultures, abilities, and disabilities. And, this is for good reason. No matter how we look on the outside, where we are from, and even what limits us, makes us beautiful in our own ways. I wanted children to have a safe space at home to meet diverse characters, learn a bit about them, and ask their parents any questions they may have. Children can shift their perspective on differences, and realize that among a difference there are tons of similarities as well. I've fallen in love with these characters and believe children will, too.
What age group is Kids Create the Change for?
Kids Create the Change is written for children in the 6- 12 age group, but it is just as useful to children who are a bit younger or older. During my writing process, I would read each chapter to my 6-year-old son and three-year-old daughter. There were no illustrations at that time and just words. It was pretty incredible witnessing the result of reading those chapters in the little moments that followed. My son turned into this little guy that was wiser beyond his years as he would share with his little sister it's okay to feel her big feelings. Or, that no one is perfect, and mistakes just mean we are human.
You are full of inspiring wisdom. If you could go back in time, what would you tell your younger self?
That's a great question! A big part of the reason I'm such an advocate for the emotional well-being of children is that I was a harsh critic of myself for a great deal of time. I'd tell my younger self to be who I am uniquely instead of trying to fit in. And, to accept and love myself even through failure.
To know more about the book visit: https://kidscreatethechange.com/pages/kids-create-the-change-book-an-amazing-growth-mindset-book-for-kids