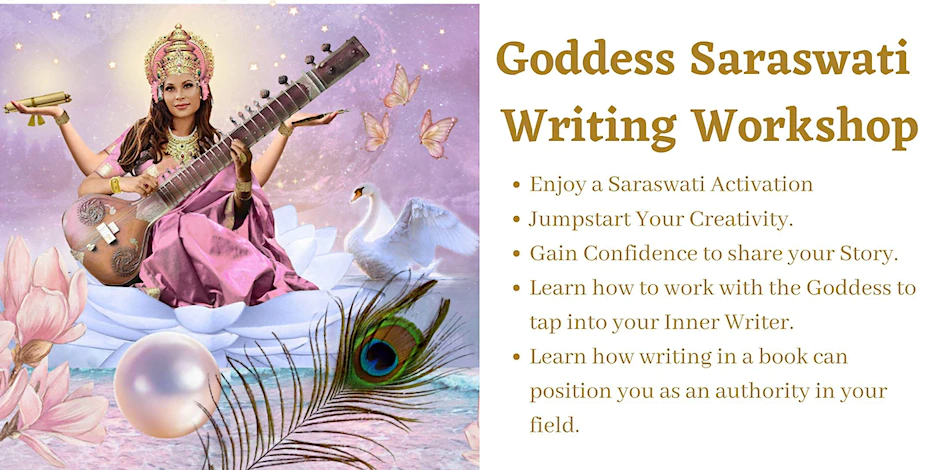 Goddess Saraswati Writing Workshop
Join this Writing Workshop with Radhaa Nilia,
Founder of Radhaa Publishing House
Saraswati Writing Workshop
Date: Thursday, December 1st
Time: 7:00 – 8:30 pm
The Goddess is my muse, and in this workshop, I will share with you how to work with the Archypte of Saraswati to invigorate and activate your creativity. Goddess Saraswati awakens your unique light frequency to shine as an innovative living conduit of creativity from your soul. It's time to connect to your inner Goddess Muse to start writing from your soul's voice. This workshop will be both experiential and interactive. We start with meditation – Activating the Creative spark of Saraswati within you.
You will feel a wave of Goddess inspiration. Wherever you are and whatever bloodlines you come from, you're a part of this cosmic creative adventure set in forth by the Goddess of Creativity to pursue your lifelong desire to sail and set free your mind to share your talents with the world. Through the Process of writing is how you break free. Sharing our written work is how we disrupt patterns and inspire the Goddess in others to awaken. Let us explore the voice of the Goddess and how to channel that in your writing. Let us discuss what it takes to be an author and how to. I will lead you with some prompts – and then lead into guided writing. You will have a chance to share your writing with the group.
There is something happening on planet Earth right now. Women worldwide are on the path of claiming and remembering our magic after many lifetimes of dissociating, hiding, and persecution. After generations of our feminine persecution and hiding our light magic to survive patriarchy, we are ready to walk the path of courage to set ourselves free. Join me for a sacred writing workshop, unlike anything you've experienced before. There has never been a more important time for Divine Feminine Leadership on this planet. Writing is a big part of that. The pen is your sword, and you can share your deepest truths and wisdom as a warrior Goddess. Writing is a Superpower. Let's activate the Goddess writer within you.
Materials needed: Bring yourself some hot cocoa, colored pens, a journal, and a laptop if you want to write. You don't need to have your camera on for the session but be sure to wear something you'd like. We will take a group picture at the end 🙂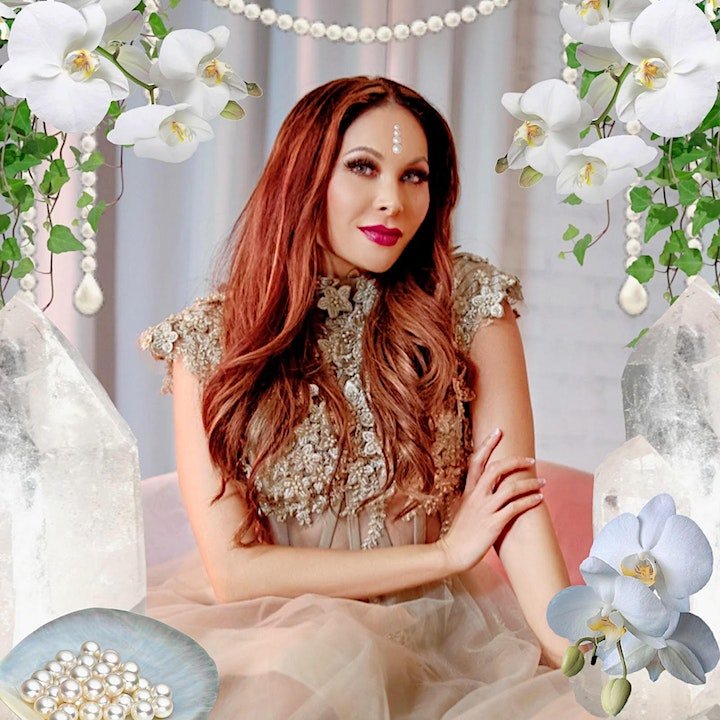 Let me introduce myself and share my path and passion for work. My name is Radhaa, and it is my deepest honor to support writers, like yourself, to birth their stories, market their books, and become bestselling authors who are seen as experts in their field. As a Publishing Priestess, I understood the importance of creating sacred writing containers where they could be fully supported while writing their experiences while incubating and developing their most sacred stories. We've successfully launched multiple Best-Selling collaborative books, and continue supporting authors to shine in visibility, publicity, and book signings in Barnes and Noble.
Creating Legacy is what I love to help my clients do as a Publishing Priestess, I lovingly and powerfully remind my clients of the truth of what they are beyond the limitations that they are currently perceiving, which is that they are powerful and limitless. But most importantly, I create collaborative books for real people to share their powerful stories and legacy in books that will inspire our generation and speak to the generations to come.
I have always been a seeker, especially through my own experiences, which I often scribe, for better or worse, as a way of alchemizing and integrating every fractal of this precious journey. As an autodidact, I love diving into life's mysteries, connecting with my ancestors, delving into the creative arts, and rifting on the Galactic Goddess podcast with guests. As an advocate of diverse voices, I empower the feminine, healers, visionaries, alchemists, priestesses, starseeds, and devotional seekers who have important messages that must be shared.
In my spare time, you'll find me walking through the forest, rescuing animals, collecting books and crystals, and traveling the World. As a lifelong student and teacher of the Goddess Archetypes, I am devoted to supporting women with my original modality, Goddess Activations™. I love holding sacred space for transformation and archetypal embodiment as a long-term teacher and keeper of the Mystery School. I am honored to support your journey to embody your voice, vision, passion, and personal power that's always lived inside of you. In my daily prayers for peace and sovereignty, I prioritize the deepest devotional healing work for humanity. I believe the best is yet to come, and the golden age is what we are co-creating. Together we RISE.
With Deepest Gratitude, Radhaa.
Here are Books we have already Published:
Awakening Starseeds: Shattering Illusions, Vol.1
Awakening Starseeds: Stories Beyond The Stargate, Vol. 2
Awakening Starseeds: Dreaming Into the Future, Vol. 3
Pillars of Light: Stories of Goddess Activations™
Quan Yin Goddess Activations™ Healing Workbook
Energy Healing & Soul Medicine, Vol. 1
Forthcoming Books: ( you can apply to be in)
Stories of the Goddess
Poems From the Heart
Energy Healing & Soul Medicine 2
Awakening Starseeds: Vol. 4, Solutions for a Better Future
Email: RadhaaPublishing@gmail.com
Upcoming Projects: linktr.ee/RadhaaPublishingHouse.
Instagram: www.instagram.com/RadhaaPublishing.
Facebook: www.facebook.com/radhaapublishing.
YouTube: bit.ly/3z7wJe2.
Participants who join have an opportunity to join 'Stories of the Goddess' Divine Feminine Leadership Program. You can find more info HERE: bit.ly/3fOz33n.
Radhaa Publishing Mission:
Radhaa Publishing is an independent, innovative, creative modern Renaissance Publishing House. Our mission is to usher in the golden age around healing and transformation for the next evolution of humanity. The collaborative books we curate and publish are devoted to the voice of the Soul, made with love, high quality, and consciousness. We are a global community with authors from around all corners of the Earth. We distribute heart-centered and exceptional books in print and digital formats. Our authors have been featured in digital magazines, book reviews, prestigious book shops, radio broadcasts, and various media outlets and publications, including launching multiple Amazon #1 Bestsellers. Bringing Authors together creates a sense of universal family that inspires readers to remember they are not alone on their journey of awakening.