From hip hop emcees to cancel culture, Freddy Will's seven-volume journal as The Sandmann
The Sandmann's Journal portrays the contemporary shifts within modern-day arts and culture. Hip hop artist and author Wilfred "Freddy Will," Kanu Jr. writes and publishes seven volumes of his first book series. It culminates an entire mixture of topics that range from the African heritage to hip hop culture to public discourses concerning political correctness and cancel culture. Known for releases on dates with corresponding numbers like October 10th, 2010, or July 17th, 2017, he has slated the seventh and final volume for a February 22nd, 2022 release in Brussels, Belgium.
Wilfred Kanu Jr.'s nickname, the Sandmann, is his alias. This American Canadian philanthropist, music producer, recording artist, and the author of ten books is of Sierra Leone origin. The prolific songwriter blends calypso, rock, dancehall, soca, jazz, r&b, classical, and afrobeat styles of music to create his signature brand of hip-hop crossovers. He focuses mainly on history, philosophy, biography, poetry, social discourses, and fiction. He activated this sixteen years profession in Toronto, Canada, and currently resides in Brussels and Berlin as a diplomat.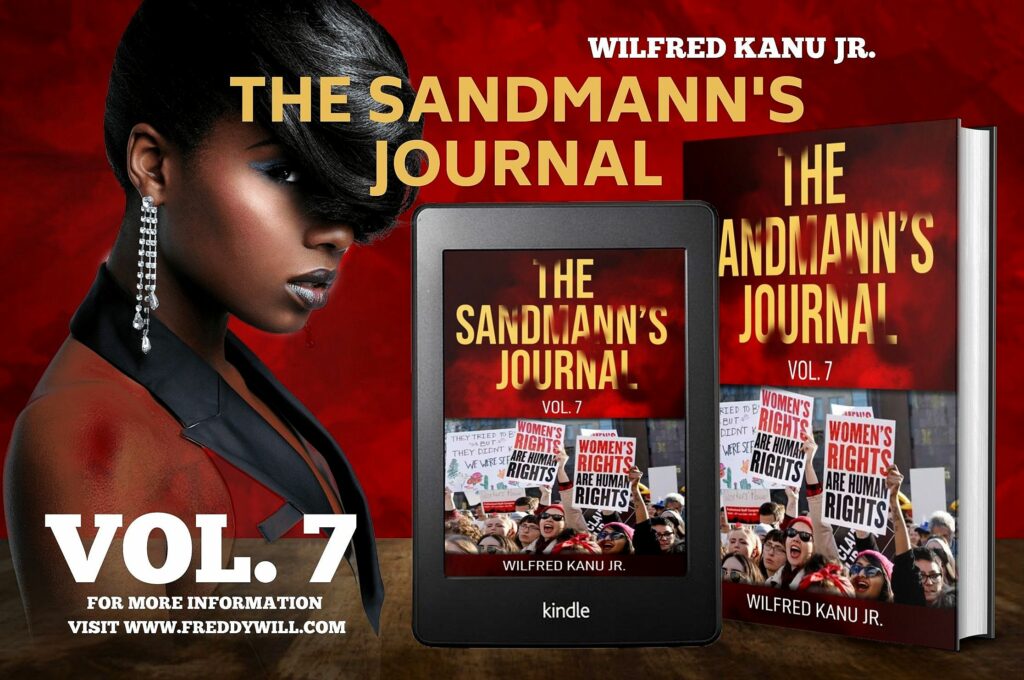 In this book series, the author of "The Sandmann's Journal" registers as the Sandmann, an independent recording artist who has grown more conscious of his Afropolitan roots and journey. He observes and debates the shifts in modern secular cultures' psychological and artistic lifestyles. He follows some widespread occurrences and discourses on social media. His way of reasoning and commenting is very intriguing as he is fused with the mindset of an old-school hip-hop emcee who rambles on about a modern society that has backslidden from its Abrahamic culture.
The eventful life of Wilfred Kanu Jr. is a testimony of devotion to his artistic calling. As present-day indie music and literary writing participant, he demonstrates how anything seems possible in a lifetime: from teenage refugee to Grammy-nominated hip hop artist to author, diplomat, and entrepreneur. Early in his career, he crossed from being a rapper to becoming an author and blogger on recent cultural events and developments – a crossing most hip-hop artists do not make. A few make an excursion into the world of books and literature by publishing their (auto-)biography.
Freddy Will has gone far beyond this, as his broad and diverse portfolio of book publications demonstrates. He has become a translator and messenger between the corporate and performing arts worlds he describes as academic vs. artistic dominions. In the Journals, he lets Sandmann speak as an Afropolitan hip hop artist, seismographic cultural analyst, and a contemporary witness who delivers with the seven volumes a comprehensive portrait of the last decade of political correctness and cancel culture within the modern corporate as well as the entertainment realm.
His journal entries give a clue how rappers portray hip-hop today. How cancel culture evolves, and how does African, American black history & gender disparages connect culturally with the evolution of the black life? Or the other expressions of the anti-discrimination injunction of men, women, Africans, black Americans, and other social assemblies. Since he lived in and traveled across different continents, his considerations go beyond the North American epicenter of hip hop. They portray the reflection of an Afropolitan mind in Europe, Africa, and the Caribbean.
Sandmann laments how Hip hop has gone more mainstream, infusing the broader discourses and interconnects. In the seventh and final volume, he writes about mainstream media, lawmakers, large corporations, the tribunal of public opinion, the education system, and global administrative policymakers using social media and new technologies to spread planned cultural changes at record speeds around the world. And yes, what later concluded in public controversy exampled with Dave Chappelle & the LGBTQ+ Community is already sketched here waiting to happen.
These include the most sizzling arguments of the 2010s, like how to hold men accountable, the absence of fathers at home, high divorce rates, women's rights, LGBTQ+ rights, and the contrast of modern secularism with monotheistic religions like Christianity, Islam, and Judaism. Above all, he emphasized his concern. How easy it was for so many people to change their mindsets as a generation. To reach this end, Wilfred Kanu Jr. first published essays on Facebook, which he transferred to his blog website before republishing them in this seven-volume book series.
To know more about Author Freddy Will visit: https://freddywill.com