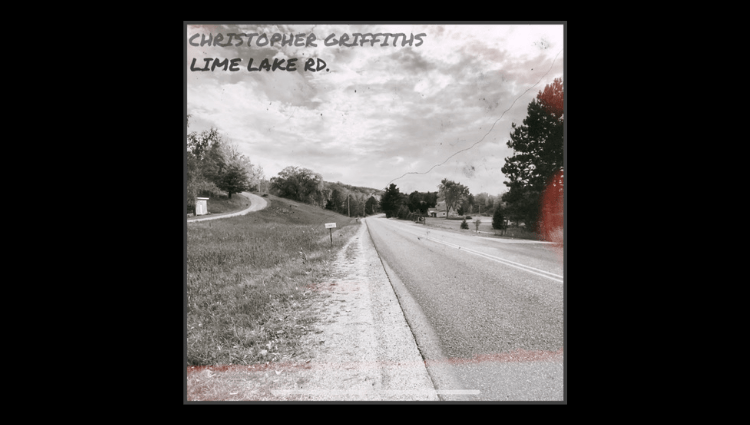 Christopher Griffiths' New Album, Lime Lake Road, Out Today!
Nashville, TN – Award-winning artist, Christopher Griffiths, released his sophomore album, Lime Lake Road, today. The six-track album was all written and produced by Griffiths and was mixed and mastered by Thom Donovan.  The new album is available for purchase HERE and is also on all streaming services. In addition, this release offers exclusive limited-edition merchandise available at christophergriffithsmusic.com. Griffiths will also make his debut on Today in Nashville today. 
"My debut EP was very electronic synth music and light hearted lyrically," explains Griffiths. "So, after I did that record, I looked at the other half of my songs, the personal ones about my childhood and the places I grew up. Ones about family, about heartache. And I moved to the more acoustic instruments, even learning to play harmonica and mandolin. So, this is very much a passion project, a diary entry into my musical catalog."
The widely anticipated six-track album, Lime Lake Road, delivers messages of both love and inspiration. Features are singles, "Best Part of You," and "Take on You." Fans can learn more about the album on About Insider The Country Note, Volatile Weekly, The Fifth Parlour and Music Update Central.
Lime Lake Road Track List:
1. "Day Dreamer"
2. "Best Part of You"
3. "Holes"
4. "Take on You"
5. "Across the Bridge"
6. "Lime Lake Road"
About Christopher Griffiths:
Growing up in the cold winters in Michigan, Christopher Griffiths dreamed of becoming a rock star at a young age. He began playing in bands when he was just nine years old and continued on throughout high school. At age 13, he would DJ school dances and his music teacher would let him chart music for the high school band. That's where his love of music started and continues on to this day. A multi-talented musician, Griffiths plays bass, guitar, keys, synth, harmonica, mandolin and upright bass. "Give me an hour and a bottle of scotch and I'll learn to play something," he jokes.
After attending Berklee College of Music in Boston, Massachusetts, Griffiths moved to Nashville at the age of 22. He began working and collaborating with various artists, such as Natalie Stovall, Will Hoge, Anthony Orio, Tera Lynn Fister, John Rennie-Hynes, Stewart Eastham and Crystal Shawanda (with whom he won a Juno Award). "All my heroes are my friends," he revels.
Heavily influenced by an array of artists from Bob Dylan and Bruce Springsteen to Dr. Dre and Iggy Pop, Griffiths is drawn to authentic lyrics that provide the listener with a story. "I'm not trying to be perfect – I just want to be real. My songs are all just love letters to people with ears."
In his spare time, the self-proclaimed social butterfly enjoys traveling, playing video games, skiing, cooking and spending time with his wife and two one-eyed cats. "My wife is a big influence because she can't see anything but her goals and I would like to be more like that."
For more information, visit www.christophergriffithsmusic.com and follow Griffiths on Facebook, Instagram, Twitter, Spotify and YouTube.