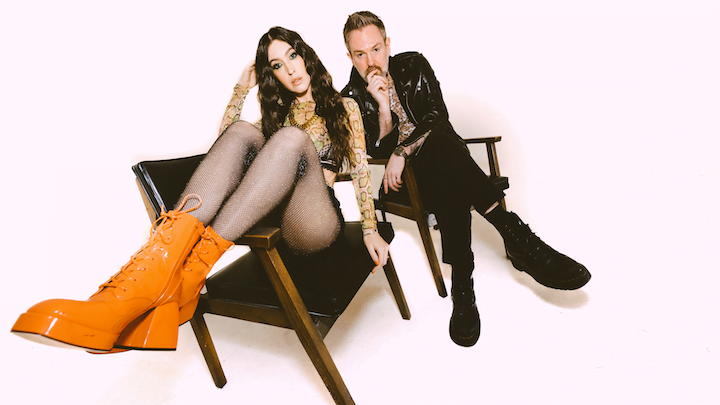 Billboard-charting Singer/Songwriter Kate Voegele New Project
Your Future Ghost is the new synth pop/rock musical project of Billboard-charting singer/songwriter, musician and actress Kate Voegele and the multifaceted songwriter, producer, composer and actor Michael Grubbs. The duo first met on the set, acting in the popular CW hit TV series One Tree Hill. Striking up a fast friendship and mutual creative respect, the two began collaborating musically over zoom during the pandemic. After months of studio sessions in Austin, Texas, intermingled with lively backyard taco breaks, Your Future Ghost was born. Kate Voegele reveals the catalyst for their creative fusion, "our voices blended in a way that inspired us both to write in this unique hemisphere of a sound neither of us had ever really explored before in our solo projects." The two soon performed their signature dirty indie synth pop at the internationally recognized Art Basel festival in Miami to an overwhelming response affirming their artistic direction.
Their upcoming album features a collection of joyful, wild and dark pop songs. With a powerful blend of big guitars, thunderous drums, and striking synths, Your Future Ghost has crafted an album inspired by, according to Voegele, "finding the fun, the party, and the refuge in the chaos of a post-apocalyptic world."
Leading single "We've Got Places" is a single all about about that place where you find refuge from whatever noise is going on in the world – whether it's an actual place, a person, or something else, I think we all have those places where we can escape the chaos and be ourselves," confides Kate. The track features stunning layered harmonies and lush instrumentation for an enticing listen.
Inspired by community, their experiences in the spotlight, and the freedom of living authentically and unapologetically, Your Future Ghost embodies a captivating paradox. Grubbs shares, "I would like to encourage folks to accept themselves. Which isn't easy. I'm like this sadboy emo dude and Kate is this singer-songwriter pop star, and together we're making this dirty indie album because that's who we've always really been inside." Their music is poised to make a resounding impact, showcasing the boundless talent and unbridled creativity of Your Future Ghost.
You can follow Kate Voegele on Instagram @katevoegele and Your Future Ghost @yourfutureghost
You can listen it on YouTube @We've Got Places and Apple Music @We've Got Places