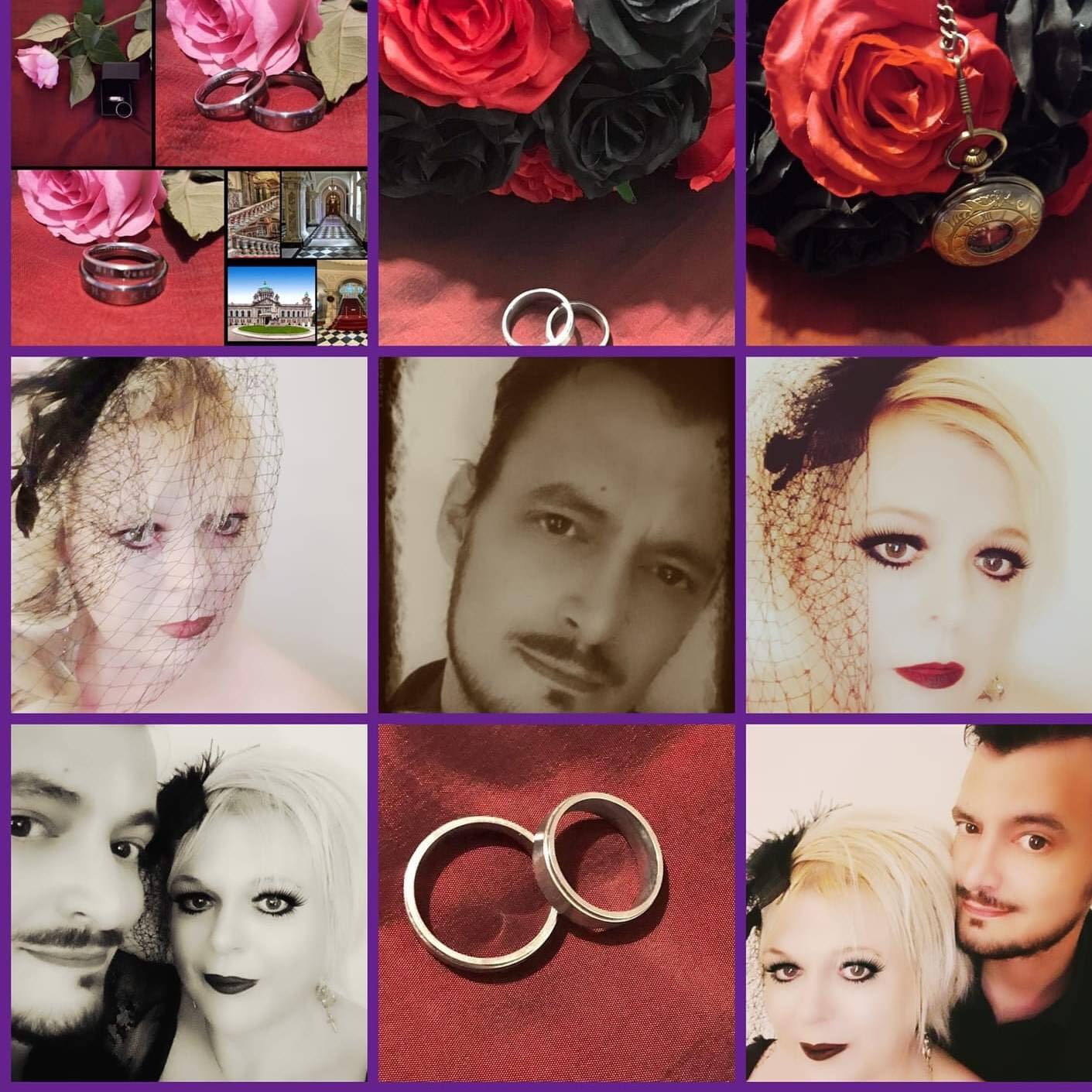 Writing Their Own Fairytale – An interview with Valkyrie Kerry and Brett Dyer
Their story is unique, a couple who met on Twitter and started writing fan fiction together as a hobby. A couple who fell in love 6000 miles apart. A couple who overcame the odds when Brett moved from South Africa to Ireland to be with (and later marry) a woman he had never met. Both are published authors and graduates; both are listed in the 'Who's Who' of writing and both love the same horror fandoms. After writing together for nearly two years Brett and Kerry have rewritten her bestseller 'Ultimate Horrotica' and complimented it with a new chapter, 'The Thorn and His Rose,' which is due to be released in March. These 'Immortalis' books are prequels to the novels that form their current works in progress. Today we ask the couple a few creative and personal questions.
IT MUST HAVE BEEN EXTREMELY DAUNTING WHEN YOU MET FOR THE FIRST TIME, CAN YOU TELL US A LITTLE BIT ABOUT THAT DAY AND THE BUILD UP TO IT?
Kerry: We were essentially online dating, and of course writing together, although only a few of our Legacy Tales (our RP and writing family) knew that we were dating. After a while it became apparent that we needed to take the next step, we talked about co-habiting but both countries were under stringent lockdown conditions. Fortunately, due to his lineage, Brett had Irish citizenship and was able to board a flight as an ex-pat. Whilst this was going on I was moving into a new house, so we had a few technical challenges.
I travelled from Mayo to Shannon as he flew in this direction. When we first met it was in the airport hotel lobby, although we had been speaking online as he changed planes. I froze on the spot, and we hugged for the first time. The first six weeks were a little awkward as we were getting to know each other, but one day the penny dropped, and we found ourselves closer than ever.
Brett: It was extremely difficult, if not nerve-racking. The build-up was during a difficult time in world history, with the Covid pandemic and all the issues it created, as I am sure everyone is aware. The stress and sadness of leaving all I ever knew and loved weighed heavy upon my mind. The worry of unchartered horizons, the uncertainty of a new life. My mind, and heart, challenged my beliefs, not to mention the whispers of failure and disappointment in these regards. Nights of distress and days of anxiety were the build up to this new adventure.
As to the day itself, it was partially cloudy in the county of Shannon; hardly a breeze in the air, scarcely a soul to be seen, utterly macabre. I recall entering the hotel we were to be meeting in, enquiring at reception regarding our room. Then, like the earth ceased to exist and all manner of the pulse of time halted… My future walked into my view. One of my life's defining moments.
YOU BOTH STARTED WRITING TOGETHER BEFORE YOU MET, WHAT WERE THE CHALLENGES OF AN ONLINE PARTNERSHIP AND HOW DID YOU OVERCOME THEM?

Kerry: Our first story together was meticulously planned; it was a fandom chapter. He was (and still is) Ash Williams (Evil Dead) on Twitter and I was Indiana Jones (the eponymous hero). The story focused on Montezuma and so we spent the day ardently researching old languages and relics. The content was perfect, but we formatted it incorrectly. It was a learning experience.
We then created a Hannibal and Dexter cross over. Initially it was intended to be a one shot, however Brett asked me to do a second and a third. He then suggested (after a poll) to add in Moriarty but claimed he could not write the character and asked me to take the reins. As the story progressed, he kept inserting ideas and chapters, I liken it to the Arabian Nights whereby one party maintains the interest of the other through storytelling. Our first saga was the basis of a learning experience and subsequently led to the novelisation of 'Nevermore' one of our greatest story arcs, which contained several crossovers. I think we have reached a meeting of minds where we understand each other to write cohesively and cogently. Our online partnership laid the foundations for where we are today.
Brett: Time constraints proved to be a challenge at first as I was two hours ahead back then. This was overcome as we got used to managing the obstacles involved with irregular hours. The next challenge, in my opinion, was the strain on communication. The attempts to purvey a particular idea or a counter point became, at times, frustrating. The delay involved using social media and online communication proved to be highly agitating! Awaiting a response, desiring a verdict, reaching a common ground, or even explaining a joke.
As with all things, patience and tolerance of the challenges, to name but a few, were key in the long run to our relationship. I am not a patient person. Thankfully, my wife is. Over time and many, many a disagreement, we became more in tune. Our workflow and processes over such a distance started to coalesce. We both started marching to the beat of each other's drum as it were. As our own hearts and souls became entwined, so too did our ability to coordinate our mutual visions.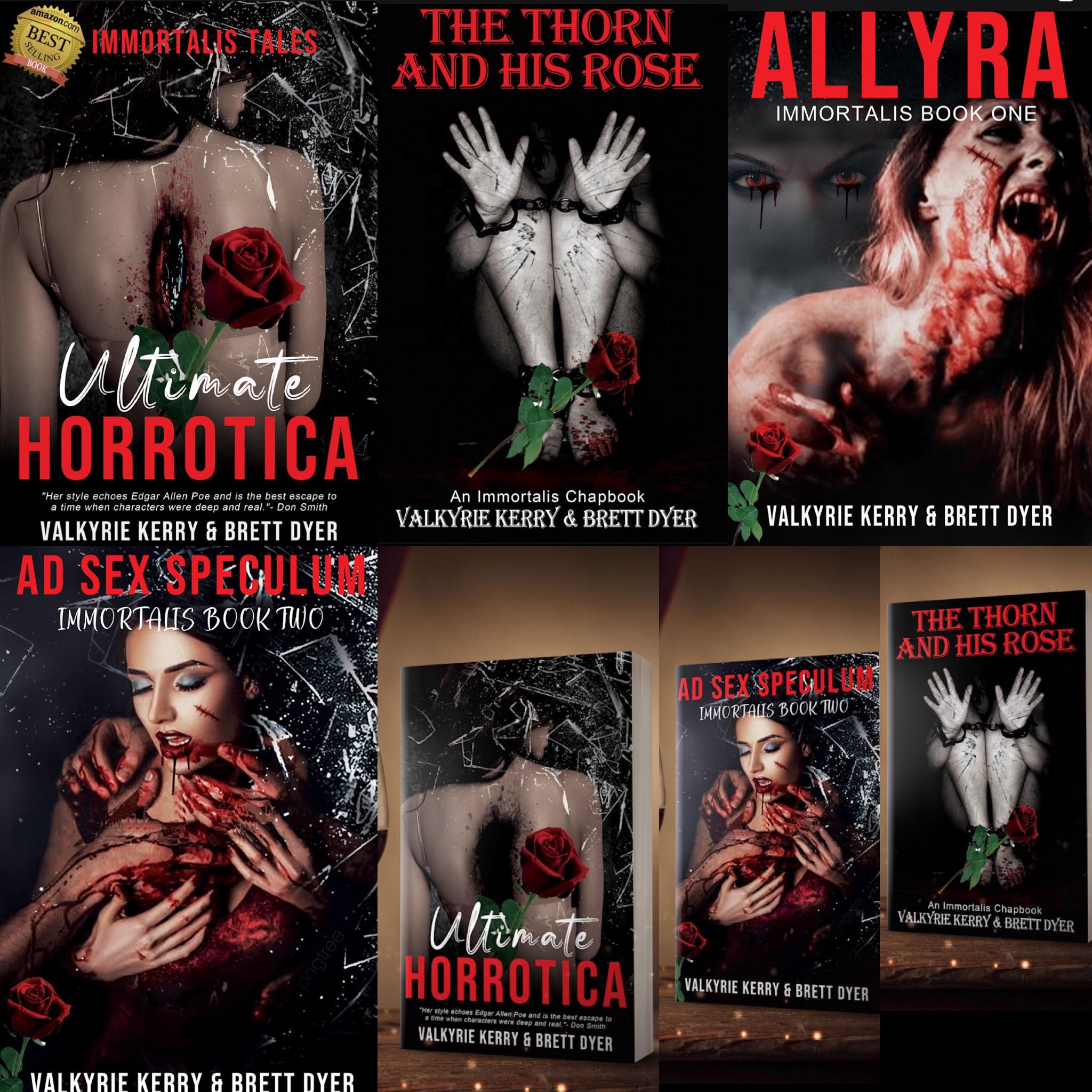 INITIALLY YOUR CO-WRITING TOOK THE FORM OF FAN FICTION AND RPG, HOW DID THIS EVOLVE INTO THE IMMORTALIS COLLECTION?
Kerry: I had started to write the Immortalis characters before Brett and I met, I did not have a name for the series at that time. Essentially, I had written a series of short stories, verses and novellas. I had hit a wall with some of the characters, they were flat, two-dimensional and I was not sure where to go next. I started sharing these drafts through Legacy Tales and the more I shared, the more involved Brett got with the characters. We were already living together at this time. After a while we started making the characters and I explained to Brett that I had hit a wall. He then threw a ton of ideas at me that were wholly refreshing and added several new dimensions to the plans.
During last year's poetry marathon we wrote in tandem, the story fell under the Immortalis umbrella and built on other works that we had mutually engaged in. It is the story of two lovers who are both serial killers with a penchant for the creative. They challenge each other through various methods of murder but they are equally wary of one another. That paranoia grows and explodes in the most shocking climax. This instalment is due to be released in May 'The Thorn and His Rose.' That work combined with Brett's heavy input into the overall series has led to a re-working of 'Ultimate Horrotica' and the full plans for the novels.
Brett: It is no secret that we are fans of the horror genre, we both take delight in portraying our favourite personas within this community. From there, I believe something ignited a flame. The evolution from being fans to writing a completely new and original peace had begun.
Within the enjoyment of our shared interest in fan fiction we discovered potential; a potential for expressing our own ideas. Kerry had always had hers, now she encouraged mine to take flight. We developed these ideas into our own characters and story arcs. Kerry had an idea for a fringe character, for example. I saw the opportunity to further such an original character. Without giving away too much, the entity in question became a main figure in the upcoming sagas with a tidy, albeit controversial back story. 
We became enrapt in researching various potential characters. Many a night stuck together in debate of; 'Can we try this?' or 'I had a thought about that character'. The characters soon took a life of their own, some even offered a reflection of our own personalities. The stories began to breathe and progress as if we weren't even there. At the end of it all, we still have the comfort and pleasure of returning to our beloved RPG Horror characters in Legacy Tales.
WHAT CAN YOU TELL OUR READERS ABOUT IMMORTALIS?
Kerry: There are no good guys in Immortalis, no final girls, no heroes, only Immortalis and their victims. The Immortalis build on traditional mythologies and popular culture, it is a reimagining of monster categorisation. Vampires, lycanthropes, deadites, demons, they all fall under the Immortalis title, characteristics manifest in individual forms. An immortalis is turned by blood and depends on the same. However, the series is about their own power struggles within a hierarchy. It is horrific, darkly erotic and each character as duplicitous as the last. It is not a YA book by any means. I liken it to 'Game of Thrones' with demons. I actually do not think my description here does justice to the darkness within the covers. 
Brett: Well, to confine Immortalis to a single sub-genre would be fool hardy for one thing! The basic pretext is of passion and pain. Love being unconstrained, yet, guided by duplicity and conspiracy to seek its own ends. Suffering explored in search of its own delight. Characters rich in history just as they have affected the outcome of ours. Chronicles of a secret narrative laced with blood and time immemorial. Beings walking amongst us, watchful and waiting, content to use any means to attain their immoral ends. Lust and desire portrayed in inuendo.
YOU ALSO WORK ON ACADEMIC PROJECTS TOGETHER, DOES CONSTANTLY WRITING TOGETHER CREATE ANY DIFFICULTIES?
Kerry: We have both unintentionally adapted our writing to compliment the other's. A natural evolution that probably stems from working together day in and day out. After some time, we developed the ability to write stories together without excessive communication. We both understand the direction of the characters, the paths of the narrative and our particular styles well enough to fluently create our tales. The same is true of academic projects, we have a method (and lots of pads, pens and devices) to ensure the works are completed within the parameters set. 
Brett: Absolutely, everyone has a difference of opinion, and such differences can lead to conflict. This is how to reach a middle ground in any conflict; debate to produce and that's what matters. We have worked together for so long that a mutual understanding exists, a trust. We are both walking in 'lock and step' with regards to our writing and character development. This carries over into our other projects outside of fiction. We have transformed and transcended solitary behaviours to being adept in our shared vision. 
WHAT CAN WE HOPE TO SEE IN THE FUTURE?
Kerry: More Immortalis books, 'The Thorn and His Rose' and the third (and much changed) edition of 'Ultimate Horrotica' are due for release in March, thereafter the novels will come. The first two are close to completion, and the future of the characters fully developed. A good dose of extreme and adult horror for ardent fans.
Brett: The introduction of new, rich character furthering the lore behind the Immortalis. The plot evolving into something more. Without giving anything away, perhaps a side book exploring the development of said character, and one very primal force, yet to be introduced….?
TO KNOW MORE ABOUT AUTHOR VALKYRIE KERRY AND AUTHOR BRETT DYER FOLLOW THEM ON THEIR TWITTER HANDLE @Horroticav AND @Ashy_slashee