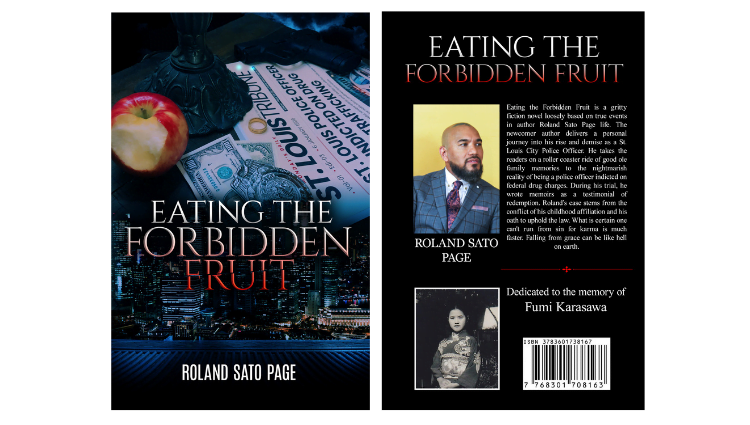 The Transparency of An Convicted Cop
Embracing his newly found passion for writing Author Roland Sato Page found the art to be mentally soothing. After releasing his first novel "Eating the Forbidden Fruit" amidst the pandemic. The new writer declared he does not consider himself an author merely a humble man wishing to share his story. He has been battling Lupus for the past decade, so his mental state has been traumatized by the death of his mother, health issues, and the lost of his tattoo career (loss of hand motor skills). Roland note his mother, Fumi Karasawa, a native of Japan was his heart & soul therefore her passing strained his psyche. Keeping a promise to his Haha (mother in Japanese), Roland completed his book for his mother dying wish. 
 Currently the self-published book is doing quite well on Amazon. Roland express a sense of relief after the release. The novel has received 4 out of 4 stars review on On-Line Book Club and 5 out of 5 from Chick-Lit Café. He is pleased with the feedback. 
"I was concerned how the pandemic would affect my marketing campaign. I wanted to do book tours and speaking engagements. I am so paranoid now because my immune system is hampered. I had to learn how to readjust promotional concepts which is differently for an inexperience author. As a former tattooist/graffiti artist visual expression always came so naturally. Thus, I switched urban art for literary art. It's not for any financial gain because let's be frank, I'm an independent. My gratification is purely accomplishing the end product."
The synopsis of the book is without a doubt intriguing. Eat the Forbidden Fruit is a thrilling crime drama about true events in Roland's past life as a St. Louis Police Officer convicted of federal drug crimes stemming from his childhood affiliation. A rollercoaster ride of suspense, humor, and real love. Read as the young cop is conflicted between loyalty to the Badge or his childhood friend. A tale of real-life temptations in Law Enforcement the public does not see. "Sin Behind the Badge" 
The St. Louis native voice, "It's not a sad nor happy ending. It is the reality of my demise. Inspirational!" He narrates a transparent journey many law officials will not admit. "Look Law Enforcement is manned by humans so there are bound to be flaws. However, if you relieve there was no malicious intent and your instinct kicked in. You might lose your job but at least you will not go through a judicial process. Lying or covering up a situation is perjury. A CRIME! Some officers are so passionate about solving a crime that they will commit a crime. Effective? Maybe but none the less a crime."
The author insists his story is completely different confirming he was guilty, but there are twist and turns one will have to read to get a grasp on his case. The media portrayed him as a menace to society. Roland says, "That's far from the truth. Despite the feds wanted to make an example out of me. I admitted my crimes. Cops do not like what they perceive as crooked cops. I felt I did so many negative things in the past. I had it coming." 
Subscribe to author Roland Page newsletter for more info at www.authorrolandpage.com