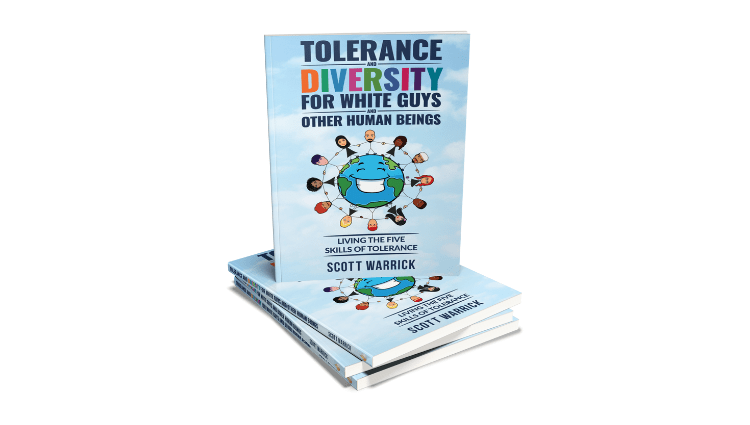 New Book "Tolerance and Diversity For White Guys and Other Human Beings: Living The Five Skills of Tolerance" Now Available
Author Scott Warrick is proud to announce the release of his new book, "Tolerance and Diversity for White Guys and Other Human Beings: Living the Five Skills of Tolerance."
Already rising as a bestseller in more than a dozen categories, the book offers a fresh and practical look at diversity and tolerance. Warrick focuses on what we all have in common and how to treat each other on an individual bases as human beings. Pulling from his diverse experience as a human resource professional and practicing employment attorney, the book shows how to use the five skills of tolerance to build a truly inclusive culture of trust in our workplaces and world. He shows exactly what to do to reach these goals in a direct, practical and entertaining style.
This book will help readers to:
Examine the faults all humans share without alienating or blaming any single group of people
Focus on how to behave rather than beliefs
Gives the core skills needed to survive in today's diverse and digital world
Praise for "Tolerance and Diversity For White Guys and Other Human Beings" has been abundant.
Cathy Fyock, Author, The Speaker Author says, "Scott Warrick is an expert in the diversity and inclusion space, and offers one of the most balanced and fair discussions on this topic. He invites the reader to see the faults in all humans without alienating or blaming any group. He offers practical steps for including everyone in this important discussion!"
Tracy Crosby says, "I was impressed with the writer's format and his knowledge and understanding of all races and situations. We do need more education in this area."
"Tolerance and Diversity for White Guys and Other Human Beings" published by Ignite Press, includes eight straightforward chapters addressing the five skills of tolerance including building the case for tolerance. The new book is now available for purchase on Amazon.com.
About Scott Warrick JD, MLHR, CEQC, SHRM-SCP:
Author Scott Warrick has been an employment and labor attorney, HR professional, and popular speaker for almost 40 years. His clients range from small organizations to Fortune 500 companies to governmental institutions. He travels the country presenting seminars on such topics as Employment Law Resolving Conflict, Diversity, and General Differences. Scott's first book, "Solve Employee Problems Before They Start: Resolving Conflict in the Real World" was a #1 for new releases on Amazon and named by EGLOBALIS as one of the best global Customer and Employee books for 2020-2021. You can learn more about the book and Warrick by visiting www.scottwarrick.com.