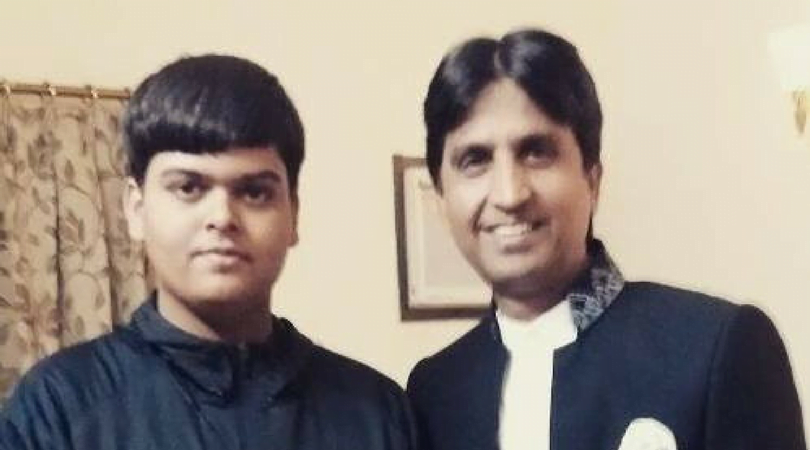 Interview with Author Eshan Sharma
ESHAN SHARMA was born in Meerut, Uttar Pradesh on 20th June 2000 and grew up in IIT Kanpur. Ever since his childhood, he is an avid reader which motivated him to focus his expressions and pen it down. It is not only his hobby but also his passion for writing. He passed class 10th in 2015 from Kendriya Vidyalaya IIT Kanpur with flying colors and currently he is in class 12th with Humanities stream in Delhi Public School, Kalyanpur, Kanpur.

Your debut book, "The Teacher I Never Met", was published recently. To begin with, could you tell those who don't know much about the book?
The book is the story of a school going kid of 11years who thinks Abdul Kalam as his mentor. The journey of the boy in the book is all about exploring about the missile man. Later at the age of 16, he tends to start an adventure travel in to the lifeline of Kalam since a kid till his last days. The book is a fantasy fiction with lots of emotions shown towards a person whom the boy in the story considers as his mentor. The book gives lots of information about Kalam's literary works. This is not a mere book with a story but the journey of a successful human through whose teachings young children can have an idea of laying path to their golden future. Being a youth you know, we youth keep interacting with each other always, be it social media, debates, classrooms which help us gain experiences and exchange our thoughts and feelings. This book is a result of such thoughts, experiences, and lessons learned during this journey with a teacher I have never met. Weird? But it is not, give it a try.
I do think that today's youth is ardent, talented and skilful. Sometimes, the impositions laid on our generation in the form of stereotypical thinking and non-provision to pursue one's skills does not allow us to think big and make a difference. But we can definitely overcome the difficulties and barriers with positive motivation and confidence of our parents, teachers, and elders. I have put these feelings through "The Teacher I Never Met"
What inspired your debut?
Expressing yourself, is writing. I started with poetry then for expressing I started writing blogs. So age doesn't matter much in literature. We have read The Diary of a Young Girl so for me age is not a barrier. India has the largest youth population in the world, motivating them is my main motive. And to be motivated also. So for me writing is self-introspection. I was inspired by young population of our nation and the dream of Dr.APJ Abdul Kalam. The youth, young bloods of my nation motivated me to write 'The Teacher I Never Met'.
What do you enjoy most about your work?
I love writing and researching. There is so much to explore while researching. The most enjoyable thing in my work (for now, studies and bit of writing) is exploring something new every time.
What do you consider to be your best accomplishment?
For me, my best accomplishment is getting an email stating that my book has changed one life. What could be more satisfying than changing someone's life or making a changing in a positive direction. And another accomplishment for me is getting appreciations from many dignitaries including Padma awards recipients, political leaders and famous scientists.
Finally, what advice do you have for aspiring authors?
One piece of advice to all young learners and aspiring authors is 'Lehron se darkar, nauka paar nahi hoti, Koshish karne walon ki kabhi haar nahi hoti, Asafalta ek chunauti hai, usko swikaar karo, kya kami rah gayi dekho aur sudhar karo' . Never stop or limit yourself. Self-introspect, as we all are full of unexplored potentials and the need of the hour is to know our 'Self'. Never give up, never stop trying and be Unique. I remember a line in hindi which says: 'kaun kehta hai asmaan mein chhed nahi ho sakte, kabhi tabiyat se pathhar toh uthalo yaaron'. So that's my piece of advice to my young friends and aspiring authors. And in case, you want to get in touch with me, just ping me on (www.facebook.com/officialeshansha) or drop an email in this address – (eshansha@gmail.com). I'll give my best to help you out in any circumstance.
For Readers?
Readers are the maker of an Author. My message to my readers is Thank you for reading my book and being a great support. I hope my book will reach to all my young citizens and will make a change in positive direction. Try to stay motivated even in the worst conditions and you never know, you might achieve your goal out of nowhere.