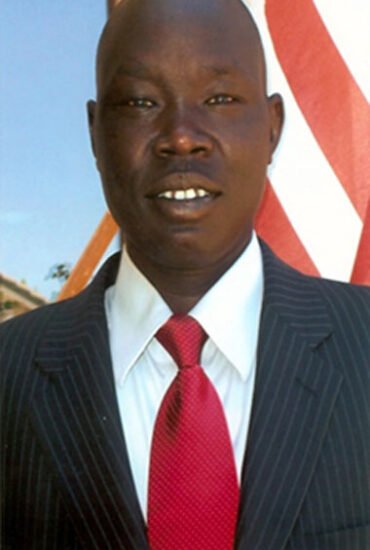 Interview With Author Paulino Mamiir Chol
He was kidnapped as a child: separated from his family and taken to Northern Sudan by gunpoint.
He marched barefoot across three African countries on a quest for freedom.
He rose up and became a leader to the frightened and hungry band of boys who the world would come to know as The Sudanese Lost Boys.
Paulino Chol tells the true story of his journey in his book, Leading The Lost Boys: The Untold Journey. He retells how, at the age of seven, he was kidnapped by the Sudanese militias called Murahalin and separated from his family. He tells of his escape from the militia with the help of a fellow captive and return to his mother and sisters. The homecoming was short-lived, as his village was invaded again, and he barely escaped as he fled with his uncle, barefoot into the desert and running for his life.
Paulino Chol is currently pursuing his Ph.D. in management and homeland security at Colorado Technical University. Mr. Chol has a master's degree in law and policy from the University of Denver Sturm College of Law. Mr. Chol has a Bachelor of Arts degree in criminal justice from the University of Colorado. Lastly, Mr. Chol has an associate of applied science degree in homeland security and emergency management.
HELLO AUTHOR PAULINO, WELCOME TO WORLDAUTHORS.ORG! TELL US WHAT DRIVES YOU TO WRITE? YOUR MOTIVATION AND THE PURPOSE OF YOUR BOOK?
My childhood experience motivated me to write books about my life. My motives for writing books can be as different as the sun and the moon with the darkness. My inspirations come with pain and relief. For example, (1) The Murahalin militias kidnapped me and killed the men caught before me when I was 7. (2) The Murahalin militias forced me to escape my village and walk barefoot to the refugee camps for three months. (3) I endured thirsty, starvation, aerial assaults, and walked through fields of corpses during the Second Sudanese Civil War, lions, crocodiles, African venomous snakes, and scorpions in the fields, and psychological abused from the SPLA officers and teachers in the camps. (4) The Murahalin militias killed my parents several years after my departure from my village. (5) I managed Lost Boys in worse situations from the Ethiopian and Kenyan refugee camps for more than 16 years. (6) After I was educated and started writing books about what I have experienced from my village to today, I felt a sense of relief. (7) I will outline options for child abduction, forced marriage, and oil in South Sudan.
My goal is always to write books about what I have seen and what I have done in the best and most straightforward manner to make sure my readers worldwide understand what happened.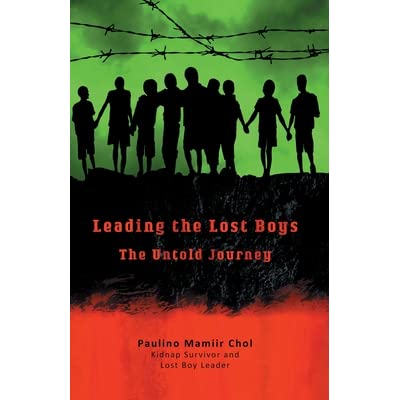 WHAT DO YOU HOPE READERS WILL GET OUT OF YOUR BOOKS?
How will they feel or be different after reading it? The readers will understand the untold journey and pain and the only direct account of a kidnapped survivor and a real leader of the Lost Boys. The actual group leader of the Lost Boys, who solved many cases among the Lost Boys, I led. The Lost Boys' true group leader, who maintained peace and unity among the Lost Boys in the Ethiopian and Kenyan refugee camps. The true leader, who managed the Resettlement Program of the 7, 000 Lost Boys from the Kakuma refugee camp, Kenya to the United State in 1997 to 2004. The readers will feel terrible about the pain and suffering the Lost Boys have endured for over 17 years in the bush.
WHAT BOOKS DID YOU READ AS A KID/YOUNG ADULT? WHAT ARE YOU READING TODAY? HOW HAVE OTHER AUTHORS INSPIRED YOUR WRITING?
I have read books on criminal justice and court matters. Now, I like to read books on acts and regulations. The other authors encouraged me to write books on problems to get solutions and stop repeating the horrific story.
WHAT IS ONE THING IN YOUR BOOK THAT WILL SURPRISE READERS? (NO SPOILERS THOUGH!)
One thing in my book that will amaze my readers will be real leadership at an early age.
WHAT ARE YOU WORKING ON NEXT? MORE BOOKS?
I am writing a book on how General Malual Awan kidnapped my two kids in Nairobi, Kenya, and unlawfully transported them to the war zone in Jonglei State, South Sudan. I will write more books about forced marriages and oil in South Sudan and employers' discrimination against refugees in America.
WHERE CAN WE CONNECT WITH YOU ONLINE?
You can connect with me online through www.machfoundation.org