Interview with Author Marina Makaron
Fashion designer Marina Makaron has a new collection, but it's not clothing, it's an illustrated chapter book for children, Mashka and Mishka: get trapped in a rainbow. Inspired by her grandmother's fairy tales and the Eastern European folklore Marina grew up on, the timely story explores gender fluidity and bias, and features non-binary characters. The brightly illustrated book takes the reader on an incredible ride and is a fantastic read for the whole family to read out loud before bed, and a great personal escape curled up in your favorite lounge chair.  
Marina Makaron's collections have been part of Mercedes-Benz Fashion Week, Milan International Fashion Week, Philadelphia Fashion Week, Atlantic City Fashion Week, and publications such as Elle and Vogue.
As a fashion designer, I'd love to hear how you segued into writing a chapter book?
As a marketer by trade, I have always built my project as a story. Creating a brand, organizing a fashion show or a photo shoot is adjacent to storytelling. It is like creating a play with a plot, visual, and such. So in a way, it was exactly a segue; a very smooth transition. Although in this instance, I did not need costumes 🙂
Tell us about your main characters Mashka and Mishka and what they encounter on their adventure?
Mashka and Mishka are siblings that see each other and not themselves in the reflection. That is until they wake up in a magical realm where everything is possible. They meet a phoenix-like gold creature, visit a flower skyscraper city, escape creeping shadows in a hut on okapi legs, see drawings come to life, and much more on their journey to get home.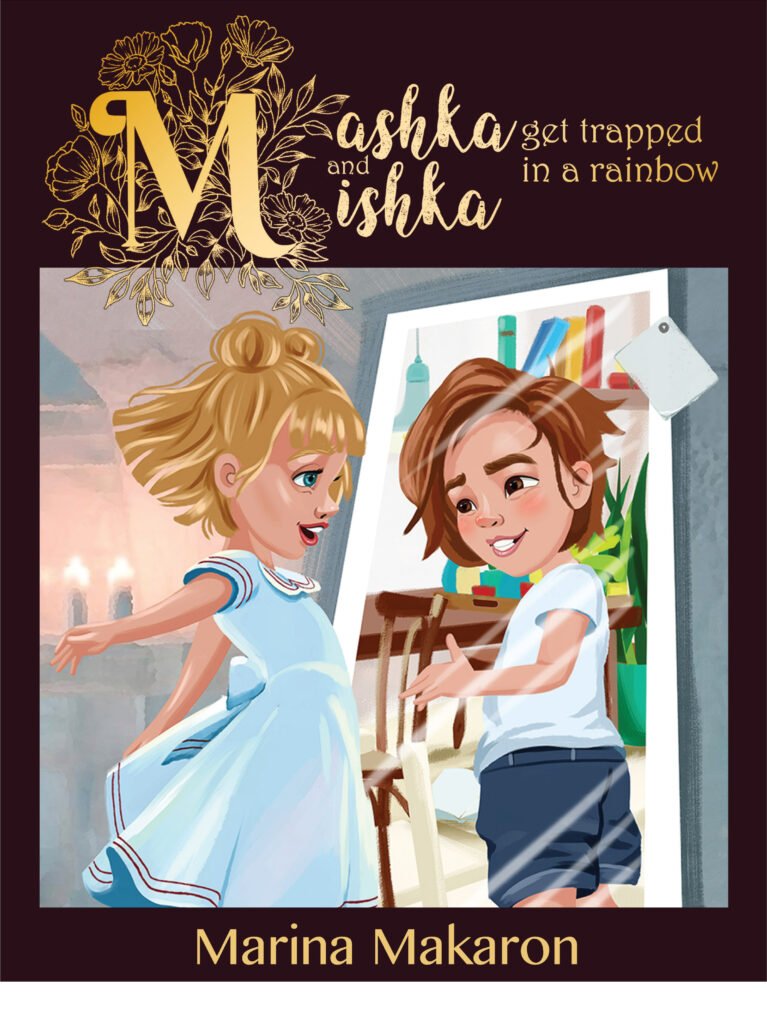 What led you to feature non-binary characters in a children's book?
The non-binary topic has always been of interest to me. The way we grow up with labels and, in a way, become enslaved by some handicaps us as adults. After becoming a mother, I felt like this is something I wanted to voice. Seeing kids questioning or submitting to binary stereotypes made me want to open the space for a wider conversation based on acceptance and love.
How have your Eastern European roots inspired your creative endeavors?
My fashion line and my writing are based on Eastern European fairytales. I derive a sense of pride in folkloric art and the cultural history of any origin. The imagery of old Russian countryside and folklore seems almost glorified, which I know it was not, in my imagination. That is because my happiest childhood memories associated with them.  The beautiful books and cartoons that accompanied my growing up create an aura of bliss. And to create something beautiful and happy, I believe, it is necessary to share that happiness that is true to the creator. Otherwise, it wouldn't be real.
Are you planning on any more Mashka and Mishka books, and if so what journeys will they encounter next?
I am! But I cannot give it away. There is an important part at the end of this book that shapes the next one.
For more information, go to: https://marinalmakaron.wixsite.com/books