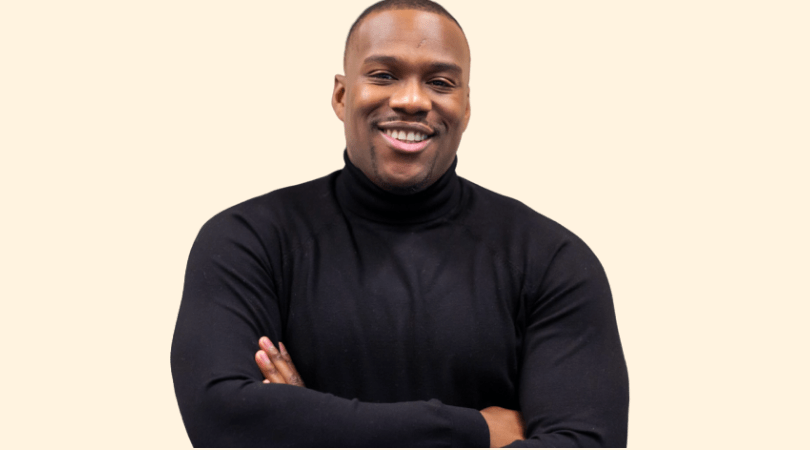 Interview With Author Keishorne Scott
Keishorne Scott is a Brooklyn native; an award-winning community activist, bestselling author, speaker, relationship & heartbreak coach, TV Personality, and founder of Your Love Experience Intl which seeks to cultivate the power of healing, relationships, and love through creative online content, special events, and community.

Mr. Scott has been seen on Forbes, Good Morning America, ABC News, ABC World News Now, MSN.com, Yahoo! tv, Newsday, News 12, Marriage.com, Canarsie Courier, Rolling Out Magazine, and many high profile media outlets.
TELL US SOMETHING ABOUT YOURSELF
Growing up in Brooklyn, NY, I never thought I would be an author and a relationship coach but life had other plans for me. After ending a relationship with my ex-fiancé ten years ago, I realized through my pain that I was valuable and I was worth forgiveness. That was a turning point in my journey to healing. This path has brought me to write two best-selling books to help other people heal, coach and work with thousands of people around the world, and to my wife and daughter who really are the reason I write to help other people heal. 
YOUR BOOK, "THE HEARTBREAK WORKBOOK", WAS PUBLISHED RECENTLY. TO BEGIN WITH, COULD YOU TELL THOSE WHO DON'T KNOW MUCH ABOUT THE BOOK?
Absolutely! This unique workbook provides concrete exercises designed to help a person move through their grief and hurt to forgiveness, acceptance, and beyond. Each chapter is designed to give the reader action steps to take right now to start and continue on the path to healing. I begin the workbook with a difficult but necessary first step: turn your phone and computer off. You have to stop staring at your phone, waiting for a text or a call from your ex. Only then can you have space to breathe and begin the healing process. That is what worked best for me when I was going through my season of pain and transformation. The workbook takes off from there, launching into forgiveness in week one. The setup of week one is mirrored throughout the ten weeks of healing throughout the workbook. I wanted to give readers concrete examples of what forgiveness is and what it is not. It is a step-by-step, week by week workbook that helps men and women alike take the steps necessary to find themselves again. 
WHAT INSPIRED YOUR DEBUT?
I went through a tough breakup in 2010 that changed me in fundamental ways. I was engaged to be married and I thought this was the relationship that I would grow and foster for the rest of my life. That breakup showed me that I had work to do to move from being a boy to being a man, a true partner. I realized through that healing journey that I didn't like the man I was and I wanted to become a better man for my future self. What I found through that process of healing and forgiveness that I followed was that the love I wanted was possible and that I deserved it. I realized once I found myself again that there weren't many books that I could turn to when I needed concrete steps to take toward healing. I decided then to write my own.
 WHAT IS YOUR PROCESS OF WRITING A BOOK?
The journey certainly hasn't always been easy. After walking that long road back to myself, I realized that there really wasn't a whole lot out there to help people going through heartbreak. I recognized that my story of heartbreak, forgiveness, and healing could help other people heal. I found that having concrete steps and goals really helped me to put one foot in front of the other and start to heal. So I sat down and started writing. I admit the process of writing to heal can be a difficult process to navigate. I spent many, many late nights just trying to get my story out and trying to walk back through my road to healing. It was a strenuous process filled with doubt and, at times, disappointment. As a new author, I learned the ropes of the marketing and publishing industry very quickly. Once I had my story out and saw that I had created something that could truly help people, I wanted to get it into the hands of the people who I knew were out there and needed it but the world of writing and publishing isn't always that straightforward. But it was worth it. 
WHAT BOOK ARE YOU PLANNING TO WRITE NEXT?
I plan to write a book about finding your purpose and what you're truly meant to be, free from pain, hurt, and drama. I feel like the next step in my career is to truly help people to find their most authentic self. Through that work, a person can truly figure out who they are and who they want to be. Once they do the work to discover their purpose, they can start on a journey to find real love, not only romantic love, but love with other. That's really what most people want: real, authentic relationships rather than fake, surface relationships. I want to write a book that helps people, again with concrete steps, to heal from past pain and see their own value and purpose. Then they can be transparent and real in their future relationships. 
FINALLY, WHAT ADVICE DO YOU HAVE FOR ASPIRING AUTHORS?
It is so important for aspiring authors to recognize that their story matters. There may be people out there who need to hear your story and your journey. It truly can help people heal and move forward on their own journey. Writing is a process for sure but it is worth it. I know that writing helped me to really find healing and I know now from my readers that my process helped them as well. Know that your words are important and that they have value. Now sit down and write! 
WHERE CAN OUR READERS FIND YOU ONLINE?
Please join me on my website and blog at www.KeishorneScott.com. Readers can also follow me on Facebook @KeishorneScott, on Instagram @keishornescott, and on Twitter @KeishorneScott. Readers can also subscribe to my YouTube channel.