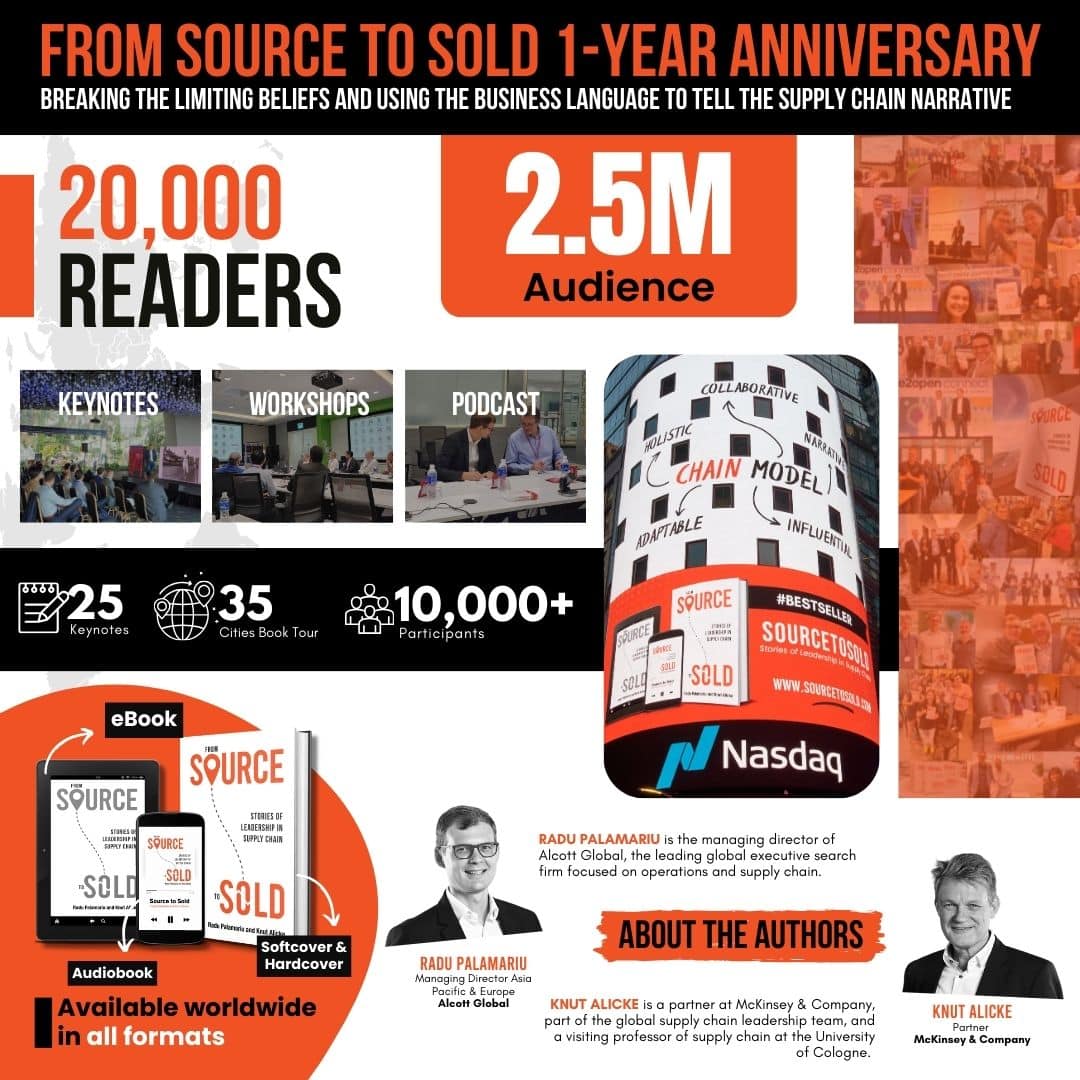 From Source to Sold: Breaking the Limiting Beliefs and Using the Business Language to Tell the Supply Chain Narrative
Today's business environment is global and interconnected, and its competitive edge travels through all pillars of the end-to-end supply chain: planning, procurement, manufacturing, logistics, retail, and overall supply chain operations, making the supply chain a critical function for the success of any business.
"From Source to Sold" book by Radu Palamariu, Managing Director Asia Pacific and Europe at Alcott Global, and Knut Alicke, Partner at McKinsey & Co., contains 26 inspiring leadership stories coming directly from supply chain leaders, unveiling practical strategies and specific techniques employed to propel their organizations to greatness and, in some instances, to attain positions in the C-suite.
The point the co-authors make in the book and their keynote addresses is that supply chain professionals, through their roles in companies, have access to data and insights that help companies make strategic executive decisions to positively impact their organizations and the sustainable use of the planet's resources. As a side effect, this might enable them to be even more successful in their roles and pave the way for a fulfilling career. Quoting Radu Palamariu, in his keynote address at the E2Open Connect Event, Barcelona, April 2023, "It's not necessary that all supply chain professionals become CEOs, but all supply chain professionals need to know how to tell the supply chain narrative, how they add value to the business, in the business language…".
Surveys and studies show that the current generation of professionals worldwide keeps as one of the highest motivations for their work the meaningfulness and ultimate impact of their actions. Given the significant role the supply chains play in the success of businesses and global sustainability, everyone in the industry should understand that doing excellent work implies collaboration, a holistic understanding of how value travels through the links of the supply chain, adaptability, ability to influence, and to tell the supply chain narrative in ways that the person they are speaking to would understand. These pronounced themes run through the collection of leadership stories in "From Source to Sold"; the co-authors have neatly summarised them as the C-H-A-I-N Model for Supply Chain Leadership and, to date, have delivered 25 vibrant keynotes to supply chain communities worldwide.
C | Collaborative. Builds relationships throughout the value chain
H | Holistic. Develops a true understanding of how a product gets from source to sold
A | Adaptable. Prepares proactively, responds flexibly, and converts crises into opportunities
I | Influential. Influences teams and leaders up and down the organizational ladder
N | Narrative. Communicates the supply chain vision through stories that inspire
1. Thought Leadership and Role Model Inspiration in Supply Chain Management
From the beginning of the book, Knut Alicke sets the record straight that the supply chain is a relatively new structure in organizations. Its business value is increasing as organizations access the benefits of strategic end-to-end operations, becoming a standard way of operating, and we should expect more CEOs to emerge from the supply chain backgrounds.
"In something like accounting, which has been around for hundreds of years, you have international standards. Manufacturing, as well, is much older than supply chain, and has production models that are similar all over the world, given that Toyota's production system has become the quasi-standard. Now, you could argue that supply chain is comparable to those fields because it had its base in logistics, and logistics came out of the military—ensuring soldiers are supplied with everything they need for the battlefield and all that. So, if you take that view, supply chain is hundreds of years old at this point. But, in reality, the whole planning aspect of supply chain is still relatively new."
The pandemic offered the world a glimpse into the complexities of global supply chains when disruptions resulted in a lack of necessary supplies and products on the shelves of supermarkets, pharmacies, or IT shops. Also, it pushed the industry towards accelerated transformations by implementing powerful digital technologies that offer faster and more accurate insights into the overall operations and can raise alarms for impending risks.
External complexities, as well as the internal significant work that transformations bring with shifts in processes, culture, and the discomfort of learning how to do work using new tools, are a reality supply chain professionals face at all levels of their careers; the contributors to "From Source to Sold" book are no exceptions, and that's why their success stories struck a sensitive chord with the supply chain professionals. Quoting one of the reader's testimonials: 
"Source to Sold" is truly different. It's not about running your logistical operations more efficiently. It's not about creating a more effective S&OP. It's not about creating an optimized distribution network. It not even about digitization or AI! Source to Sold is about: all of us. Well, all of us supply chain folks. – Tom de Groot
While no magical wand will make the complex nature of the global supply chain disappear overnight, a key ingredient to keep in mind when telling the supply chain narrative is simplification. In the same keynote address mentioned above, Radu Palamariu stated:
"Simplification is the ultimate sophistication. I am not saying that supply chain is simple, but when you explain it to someone outside of supply chain, that should be the goal."
The co-authors walked the talk in writing in a storified format that inspires the readers, the supply chain career journeys of the 26 leaders, who had such varied pursuits, steering multibillion-dollar businesses towards resounding success.
2. Global Reach and Reader Engagement
The mission Radu Palamariu and Knut Alike had when writing this book was to share successful supply chain stories and inspire the supply chain communities. Released just one year ago, the book has reached over 20,000 readers.
"From Source to Sold", besides the insights on various leadership styles, skills, mindsets, and approaches, tells the supply chain narrative and the value it brings to businesses in a concise manner and with real-life situations and examples.
Publishing the book in various formats, softcover, hardcover, ebook, and audiobook, were only the first milestones of this ambitious project. Right after the launch one year ago, the co-authors embarked on book tours around the world, and to date, they have connected with audiences in 35 cities in Europe, the Middle East, and Asia.
In their mission to inspire supply chain professionals worldwide through "From Source to Sold" and the CHAIN Leadership Model that binds the 26 leadership stories featured in the book, Radu and Knut reached a new milestone when they started receiving invitations as speakers to industry events, internal leadership summits, and town hall meetings organized by Nike, Maersk, Sap, Manifest, Schneider Electric, Aimx, BlueYonder, LogiPharma, Intel, HP, nShift, Costa Coffee, o9 Solutions, aim10X, e2open, eyeon and others, delivering 25 keynotes to over 10,000 attendees.
3. Impactful Marketing Campaign
The robust marketing strategy has one mission: keeping the authentic intention of the co-authors, contributors, and the book itself to tell the supply chain narrative and its value to the businesses through practical insights from real career journeys of top supply chain leaders to inspire the supply chain community and global businesses.
Featuring the book on billboards in prominent business hubs like Nasdaq and Singapore has attracted the attention of global executives and made one of the contributors exclaim: "That's where the supply chain should be – at the heart of the business." – Pier Luigi Sigismondi
"From Source to Sold" was featured in over 1000 articles in four languages, both in top-tier media such as Forbes, CEO Magazine, World Economic Forum, Market Watch, Finanzen.Net, and crucial industry publications such as Supply Chain Management Review, Ports & Harbors, Supply & Demand Chain Executive, McKinsey Blog, reaching a staggering potential audience of 2.5 million people.
Social media has played a pivotal role in the book's success, boasting a remarkable reach and a significant surge in engagement on LinkedIn over the past year, garnering over 1,000 testimonials.
Besides the supply chain communities following the co-authors and their companies, Alcott Global and McKinsey & Co., in social media, supply chain professionals engaged with "From Source to Sold" after listening to podcast interviews with Radu and Knut, hosted by industry opinion leaders, such as Supply Chain Revolution, Transform Talks: The Supply Chain Transformation Podcast, Aim 10X Podcast, The Logistics Tribe, eCom Logistics Podcast, Digital Supply Chain, Masters of Digital Transformation
Key Facts and Figures: A Snapshot of Success
The impact of "From Source to Sold" is quantifiable and impressive. And it's not stopping here.
The book received acclaim from senior executives for being insightful and practical, and one professor used it as a reference in a few of his lectures. Through the co-authors' keynote addresses, the CHAIN Model is becoming a reference in the supply chain communities, inspiring professionals to tell the supply chain narrative and the value that it brings to the businesses, contributing to positive changes in organizations, in the industry, and the sustainable management of the Earth's resources.
With its global reach, impactful marketing, and thoughtful engagements, "From Source to Sold" is a testament to the power of thought leadership in shaping the future of supply chain management.