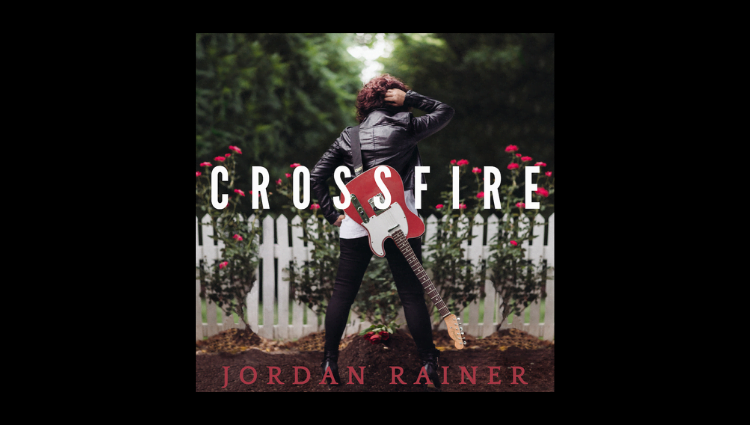 Dynamic Country Artist Jordan Rainer's New Single Is The Talk Of The Town
"Crossfire is amazing. Love that song and her sass!" – Storme Warren, Radio Personality and Daily Host of SiriusXM's The Highway (Ch. 56)
NASHVILLE, Tenn. – Jordan Rainer is a fire spittin' country guitar slingin' gal who just released her new fierce single titled Crossfire. The single tells the story of a woman who was cheated on and decides to take matters of revenge into her own hands, ultimately creating a tale that becomes the talk of the town. Crossfire is available on Spotify, Apple Music and all other digital retailers now.
"Out back where the roses grow,Where good for nothin,' lyin,' cheatin' lovers goThe truth is buried and it's just betweenThe good lord and little ol me."
Written by Rainer, Heidi Raye, and Josh Gleave (Chris Young), and produced by 9x Music Row's Guitarist of the Year and ACM's Studio Recording winner Ilya Toshinskiy (producer and session player for Blake Shelton, Carrie Underwood, Dolly Parton, Luke Combs, Reba McEntire, Sam Hunt, etc), Crossfire showcases Rainer's country twang alongside a perfectly detailed and well written story, coming together to create a fiery, yet fun tune.

"This is definitely one of the most fun writes I've ever been a part of. It took two different long writing sessions, to bring this lyric to satisfying completion," Rainer says of the writing process. Having spent a lot of time creating a background story for the song, Rainer and her co-writers wanted to get the story exactly right. "We sat around sipping coffee and really let ourselves go into the world of this woman who'd been scorned and cheated on."

Wanting to give the single a quirky and dark yet old school vibe, Rainer and Toshinskiy chose production tactics that stray from typical Nashville norms, such as using a dobro/resonator guitar for the beginning signature lick of the song instead of the traditional Nashville choice – an acoustic guitar. "The whole process of this song has been a collaborative playground," Rainer lovingly admits. "We are proud to present Crossfire not only to the country music community, but to the world. From the writing room where this crazy story was hatched, to the mastering room where we declared, 'it is finished,' this song is a personal masterpiece in my book, and a journey I'll cherish for the rest of my life."

Stay in touch with Jordan Rainer on her website and on her social media platforms Facebook and Instagram.
About Jordan Rainer: Raised on Christian music in Oklahoma, it wasn't until Jordan Rainer was a teenager when she discovered country music. Enamored by the stories and guitar slinging of artists like Keith Urban and Brad Paisley, she had found her home. With musically inclined parents, she picked up her innate ability to play music by ear. In fact, she never learned to read music. She can pick up most any stringed instrument and be playing a song on it five minutes later. Though her list of conquered musical instruments is lengthy (piano, saxophone, drums, mandolin, banjo, bass, dobro, etc), she has a soft spot for the guitar which she insists, "chose her."

Signed to Black Diamond Row Publishing, Rainer has been continuously writing with Nashville heavyweights and expanding her repertoire. After securing momentum with her debut release, I'm Good, Rainer hit the road touring, visiting radio stations and even opened for prominent artists including Brantley Gilbert, Chris Lane, and more. She also performed at the Mountain High Music Festival last year, joining artists including The Voice winner Sundance Head, Jamey Johnson, Craig Morgan, Pam Tillis, etc. on the same bill. This festival was presented by BMI and hit producer/prolific songwriter Dean Dillon. As 2019 was coming to an end, Rainer decided to step back and take time to solidify her skills as a songwriter, a performer and an artist. With her intricate lyrics, masterful guitar playing and commanding voice, she is back and catching the attention of some of the biggest names in country music. Rainer showcases an artistic vision that will prove her to be one of country music's keenest working storytellers, bringing honesty and raw intimate talent back into this genre.

For more information or to request an interview with Jordan Rainer, contact Nicole Zeller of Brickshore Media at nicole@brickshoremedia.com