An Indian Advocate Shashank Bajpai, Is The Most Dignified, Noblest Being Of The Noble Profession. The Managing Partner Of The Vardharma Chambers.
San Francisco, USA. Date- 21/04/2022. The legal profession is one whose influence spans across nearly all spheres of life, and the most successful legal practitioners are often those who do not shy away from cases from all spheres of the profession itself. One such successful lawyer in India today is Advocate Shashank Bajpai, a man of focus, humility and selfless servitude to causes bigger than himself.
Based in New Delhi, Advocate Shashank Bajpai is the Managing Partner of a bustling practice at Vardharma Chambers. His practice covers matters pertaining to tax laws of all kinds, arbitrations, white-collar crimes, and a host of commercial and civil laws. Beyond litigation, he advises some of the biggest clients in the country, ranging from multi-national companies to the bureaucracy of the Indian Government.
With that being said, Advocate Shashank Bajpai is an individual who is true to his roots. He is a family man first, and goes out of his way to ensure that his juniors have the maximum exposure to the highest courts of the land. His humility and empathy add a facet to his practice that is rare to come by. They have ensured that none of the briefs he has received have been treated like a part of the pile. He is a strong believer of the notion that an advocate is entrusted with the very life of his client. Each brief, each client, each query is as important as the one before it, and has a direct consequence on the ones that will follow.
Mr. Bajpai is a graduate of the illustrious India Law Institute, having completed his LLM in Criminal Law. Due to his exemplary record in academics and a keen eye for detail in his briefs, he commenced his practice directly before the Supreme Court of India as a Government Counsel. From his humble beginnings as a second generation lawyer, he persevered till he established himself as a household name before the Apex Court of India. He represents the Union of India in various matters before the Supreme Court and the Delhi High Court, and is a counsel for various Ministries before the Delhi High Court. He also represents the State of Gujarat before the Hon'ble Supreme Court, and has argued on behalf of most prominent commissions and authorities before all the courts of New Delhi.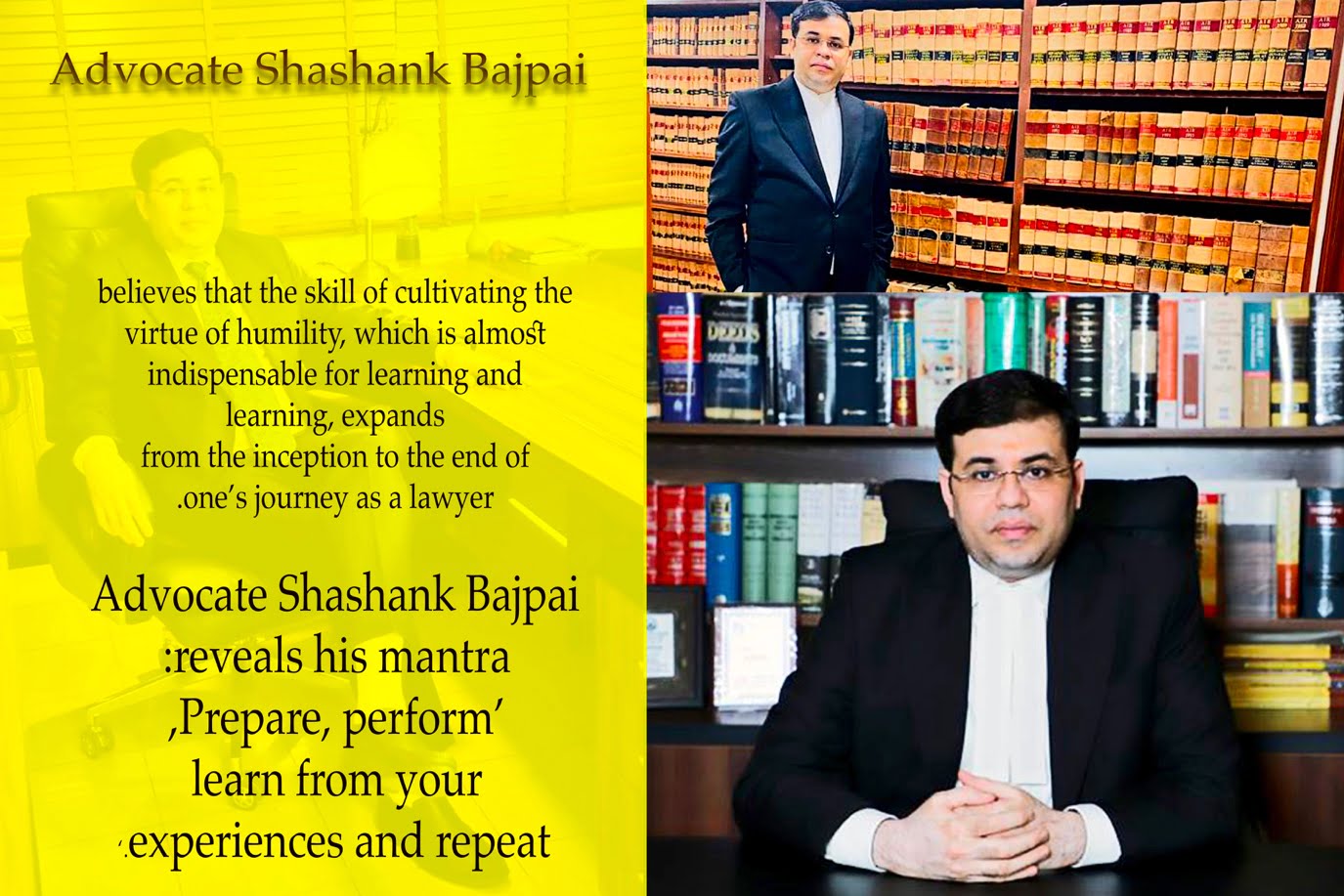 To talk about his attributes, Advocate Shashank Bajpai is meticulousness personified. He has a systematic and holistic approach to his cases and his clients. Before stepping foot into court for a case, he is prepared with all the possible directions a case can go, and all the possible questions a judge can pose, and accordingly has a plan in place for each situation. This habit has ensured that he is never caught unaware by the line of questions taken by the judge, as judges hardly ever follow the mental script the lawyer has thought for the case.
Mr. Bajpai is a firm holder of the belief that lawyers have an extremely important and selfless role to play in society. In essence, the common man is governed and affected by the law in his daily life, and it is thus the responsibility of the lawyer to assist the common man in whichever way required. Mr. Bajpai believes that lawyers are the bridge between the citizenry and justice, and passage through this bridge should be offered without regard to remuneration or recognition. He still holds the age old belief that the law is a noble profession, and therefore nobility should be one of the utmost characteristics of anybody who practices or is aspiring to practice law.
Being a dynamic individual with a great regard for public interest, he often appears on news channels to speak on pressing issues. He most recently spoke during a panel discussion on the plight of home-buyers due to the endless defaults by builders and developers. He advised the public to ensure that they always consult a good lawyer at the first instance because the very first legal step you take then defines the rest of your legal strategy. Hence, getting off to a good start becomes essential when pursuing one's rights.
Advocate Shashank Bajpai's multi-disciplinary practice has allowed him to appreciate and understand the delicacy required to handle each case. No two cases are the same, no two clients are the same, and no two forums are the same. He is of the opinion that no straight-jacket formula can be applied to assist clients in their endeavours. Every situation needs a nuanced and unique approach to deliver the best outcome. He has advised large corporations with hundreds of employees, and he has advised a husband seeking divorce from his wife. Each case, he believes, should be treated with its own respect and regard. It is only then that a lawyer does justice to his robes. Mr. Bajpai takes a keen interest in the next generation of lawyers too. He has been a guest speaker for prominent universities in India and has always believed that law schools must promote practical knowledge of advocacy, advisory, and court-room etiquette. For a student to be equipped with the right skills at the time of graduation, it requires a perfect marriage of academic knowledge and the know-how to implement it in his or her practice.
Advocate Shashank Bajpai serves an inspiration to his juniors and as a reliable pillar for his clients. He serves as an example of the righteous advocate the next generation should look up to – a humble, focussed, and ambitious lawyer who understands his role in the noble profession that is the law.