Unveiling the Depths of Poetry: A Conversation with Varsha Alimchandani
Varsha Alimchandani is an Indian poet who delves into the depths of love, loss, and existence. She cannot go a single day without writing and has published two poetry books in English. Her work explores various facets of femininity and society through her thought-provoking lens of a woman's world.
Varsha offers profound insights into complex emotions, bringing soul-searching poetry to life. She is known for using simple metaphors that stir the depths of the reader's being.
Prior to fully dedicating herself to writing and creating art, Varsha worked as a software consultant for over six years. When she is not painting or writing, she enjoys immersing herself in the pages of well-written books, traveling to far-off lands, embracing nature, cooking delicious meals, and spending quality time with her family and friends.
HELLO VARSHA ALIMCHANDANI, WELCOME TO WORLDAUTHORS.ORG! CAN YOU TELL US ABOUT YOUR JOURNEY AS A POET AND WHAT INSPIRED YOU TO START WRITING?
My journey as a poet is one of absolute vulnerability when I put my thoughts into words, accompanied by continuous learning and improvement when it comes to publishing my work. Writing, for me, is not just inspired by something external but rather born out of the necessity to find solace when nobody else in the world can soothe the overwhelming emotions I feel.
WHAT MOTIVATED YOU TO PUBLISH YOUR SECOND POETRY BOOK, "PETALS OF MELANCHOLY," AND WHAT THEMES OR EMOTIONS DOES IT EXPLORE?
Great artists, writers, filmmakers, and musicians have motivated me to publish "Petals of Melancholy" with the hope of saving someone from loneliness, just as they have saved me. The book explores themes of love, grief, existence, identity, and acceptance in their rawest forms.
HOW WOULD YOU DESCRIBE THE OVERALL TONE AND STYLE OF YOUR POETRY COLLECTION? ARE THERE ANY SPECIFIC TECHNIQUES OR LITERARY DEVICES YOU EMPLOY IN YOUR WRITING?
My poetry collection has an evocative tone that raises questions while offering closure at the same time. My style is lyrical prose, and the overall tone is conversational and introspective. I employ simple metaphors to convey the depth of human emotions. The literary devices that influence my writing are the great books and movies that linger in my mind long after the words are forgotten.
CAN YOU SHARE SOME INSIGHTS INTO THE CREATIVE PROCESS BEHIND "PETALS OF MELANCHOLY"? HOW DID YOU APPROACH CRAFTING THE POEMS AND SELECTING THE PIECES FOR THIS COLLECTION?
The creative process behind "Petals of Melancholy" has always been loyal and unwavering. It involves a commitment to exploring my feelings without hesitation and writing them down whenever and wherever they arise. The poems for this collection were carefully chosen to provide a safe space for readers and to acknowledge the challenging emotions that need to be seen and heard.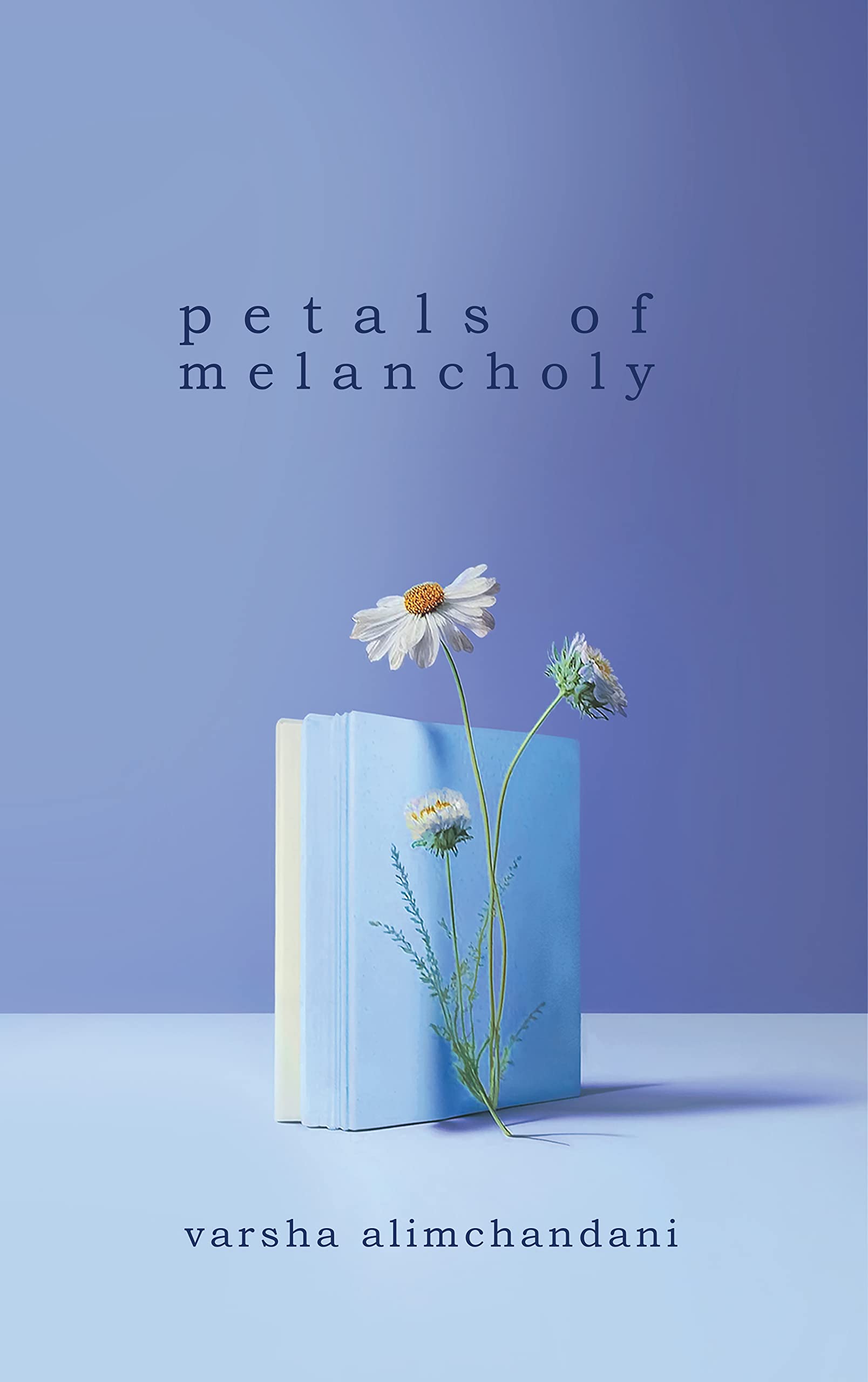 THE BOOK DESCRIPTION MENTIONS THAT "PETALS OF MELANCHOLY" TOUCHES UPON HEARTBREAK, EXISTENCE, MENTAL HEALTH, AND FEMININITY, AMONG OTHER THEMES. CAN YOU ELABORATE ON HOW THESE TOPICS ARE EXPLORED IN YOUR POETRY?
The themes we often define in two lines are incredibly vast and evoke different emotions in each person. The poems are written in a way that appeals to a wide range of audiences while allowing them to find personal meaning and individuality. The healing occurs when pain is endured and accepted. Through my poetry, I aim to identify and validate the existence of these feelings triggered by heartbreak, loss, mental traumas, anxiety, and the experience of being a woman.
WHAT DO YOU HOPE READERS WILL TAKE AWAY FROM YOUR BOOK AS AN AUTHOR? WHAT KIND OF EMOTIONAL JOURNEY OR CONNECTION DO YOU AIM TO CREATE WITH YOUR POETRY?
As an author, I hope this book will help readers understand that they are not alone in experiencing a multitude of unresolved emotions in life, and it is okay to feel this way. I aim to bring a sense of openness to vulnerability and its power. The connection I strive to create is that of a friend who understands and supports without judgment or pretense, someone who says the things you long to hear and listens to the experiences you wish to share openly.
HOW DOES YOUR PERSONAL BACKGROUND AND EXPERIENCES INFLUENCE YOUR WRITING? ARE THERE ANY SPECIFIC INFLUENCES OR INSPIRATIONS THAT HAVE SHAPED YOUR POETIC VOICE?
Being a grandchild of India-Pakistan Partition refugees and growing up in an Indian household are integral parts of my background. Living life as a woman in a male-dominated world is also a significant part of my experience. My influences stem from poignant art, anxiety, introspective nature, studying psychology, and the constant search for existence beyond labels. I am honored to mention names such as Satyajit Ray, Guru Dutt, Richard Linklater, Agnes Varda, Sai Paranjpye, Gulzar, Amrita Pritam, Sahir Ludhianvi, Rilke, Charles Bukowski, Carl Jung, Emily Dickinson, Simone De Beauvoir, and Ernest Becker, among others.
CAN YOU TELL US ABOUT THE ROLE OF POETRY IN YOUR LIFE AND THE IMPACT IT HAS ON YOUR EMOTIONAL WELL-BEING AND SELF-EXPRESSION?
Poetry in my life is like a glass of water for a parched throat. Time and again, it has saved me from myself, from the judgments, labels, and hatred that the world often tries to impose on me during moments of insecurity and loneliness. Poetry has liberated me, allowing me to navigate the spaces between right and wrong while making me realize that there are no definitive definitions of being found in this world.
WHAT CHALLENGES DID YOU FACE WHILE WRITING AND PUBLISHING "PETALS OF MELANCHOLY"? HOW DID YOU OVERCOME THEM, AND WHAT DID YOU LEARN FROM THE PROCESS?
Coming from a middle-class family, some of the challenges I faced included making the decision to become a full-time writer, managing the budget for the publishing process, and the limitless budget required for advertising. Although I am not yet commercially successful, it deeply touches me when readers tell me that my work makes them feel at home. Great artists have often struggled during their time and were often recognized as the greatest after their passing. Struggles eliminate doubts about who you truly are, and if you're still in the mix, you know the cards you hold. My life has been filled with rectifications, self-learning, and finding solutions that are not readily available even when money is exchanged. I am certain that more challenges will come, and I welcome them as they guide me on my journey toward creating a masterpiece someday. Patience is the key, and I choose to self-publish my books to be simply read. In my opinion, having niche readers who connect with my work is more fulfilling than trying to turn my book into a business model. Real connections and friendships provide shelter in a storm rather than waiting for sunshine to appear.
WHAT ARE YOUR FUTURE PLANS AS A POET? ARE YOU WORKING ON ANY NEW PROJECTS OR DO YOU HAVE ANY UPCOMING PUBLICATIONS IN THE PIPELINE?
I cannot go a single day without writing. I plan to continue publishing poems as I carefully curate them for my readers. I often publish blogs on my website, www.varshaalimchandani.com, and my future plans also include exploring expository non-fiction.