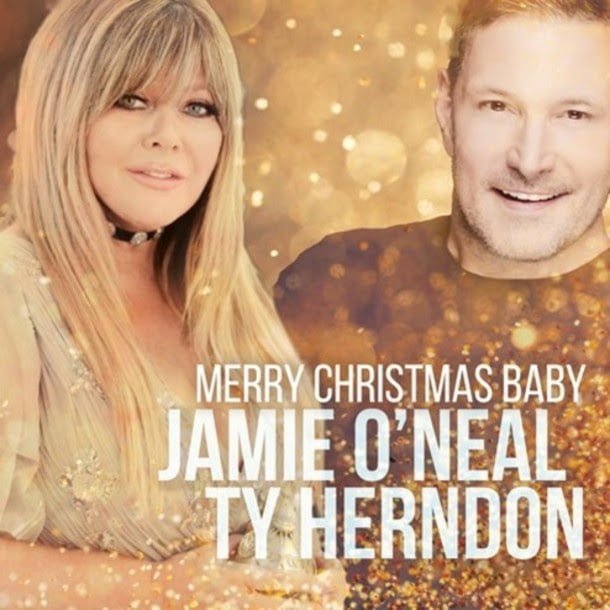 Two Songwriters, One Christmas Message: 'Merry Christmas Baby'
As the holiday season approaches, Jamie O'Neal and Ty Herndon, two Grammy-nominated artists with a long history of friendship and musical collaboration, release the poignant Christmas single titled "Merry Christmas Baby." American Songwriter exclusively premiered the track here.
This emotional track is featured on Jamie O'Neal's deluxe edition album, Spirit & Joy, and promises to touch the hearts of listeners with its heartfelt message and soulful harmonies. The track is available now on streaming services worldwide here.
Released through BFD/Audium, "Merry Christmas Baby" reflects the universal sentiment often associated with the holiday season—a wistful feeling of missing someone you've lost or a past love. The song, co-written by Jamie O'Neal and Allen Mark Russell, beautifully captures the idea that Christmas just isn't the same without that special person, making it a relatable and deeply moving addition to the holiday music catalog.
The collaboration between Jamie O'Neal and Ty Herndon is a result of their enduring friendship and shared musical passions. Having spent years touring together, their voices effortlessly complement each other, creating a musical experience that is both captivating and emotionally resonant. Their desire to record something special together led to the creation of "Merry Christmas Baby," a song that showcases their remarkable chemistry and the depth of their artistry.
The single is produced by Jamie O'Neal, alongside her husband and recording engineer Rodney Good.
O'Neal is thrilled to announce the return of her Spirit & Joy Christmas Show this year. The run of shows kicks off on December 8th at the Franklin Theatre in Franklin, Tennessee, where O'Neal will be sharing the stage with "Merry Christmas Baby" collaborator Ty Herndon. On December 13th, there will be an exclusive private show in Tucson, Arizona, followed by a performance at the historic McPherson Opera House in McPherson, Kansas, on December 15th. The tour concludes on December 16th at the Emporia Granada Theatre in Emporia, Kansas. Jamie O'Neal is booked by Bob Kinkead, who can be reached at bkinkead@kinkeadentertainment.com.
About Jamie O'Neal: Jamie O'Neal, a platinum-selling country singer and prolific songwriter, achieved household recognition in 2001 when she delivered back-to-back No. 1 singles with "There Is No Arizona" and "When I Think About Angels." Her musical journey continued with a string of hits, including chart-toppers like "Shiver," "Trying To Find Atlantis," and "Somebody's Hero." Her remarkable career has garnered numerous accolades, including multiple GRAMMY nominations, and she stands as an ACM and Billboard Awards winner. Jamie has graced the stages of renowned television programs such as "The Tonight Show," "David Letterman," and various other national TV shows. While Jamie is renowned for her own songwriting prowess, she has also crafted hits for illustrious artists such as Reba McEntire, Martina McBride, LeAnn Rimes, CeCe Winans, Idina Menzel, and more. Her distinctive voice has reverberated internationally through major motion pictures, notably contributing "All by Myself" to the Bridget Jones's Diary soundtrack. Jamie's talent also led her to perform alongside Carrie Underwood, creating a harmonious duet for CMT's "100 Greatest Duets" with "Does He Love You."
For more information on Jamie O'Neal, please visit www.JamieONeal.com, and follow her on Facebook @Jamie O'Neal, Twitter @JamieONeal, and Instagram @jamieonealofficial.
About Ty Herndon: Ty Herndon burst onto the scene and made his chart debut in 1995 with "What Mattered Most," which became his first No. 1 song and garnered a Song of the Year award (Music Row Magazine). It was also the title track to his first album, which debuted on the Billboard Top Country Albums Chart and had the biggest first-week shipment in the history of Epic Records Nashville. Between 1995 and 2002, Herndon charted 17 singles, including his three No. 1s and numerous top 10 hits, such as "I Want My Goodbye Back," "Loved Too Much," "A Man Holding On," and "Hands of a Working Man." He topped the charts in 1996 with the single "Living in a Moment" and again in 1998 with "It Must Be Love." In 2014, Herndon became the first major male country artist to publicly come out as gay in an exclusive with People Magazine. He received an outpouring of support that only strengthened his relationship with fans and the country music community, expanding his reach to new and diverse audiences. Shortly after, he made history when he hosted a first-of-its-kind country music event, The Concert for Love and Acceptance, now an annual event that provides a stage for LGBTQ and allied artists. In 2020, he created the Foundation For Love & Acceptance to further his work on behalf of LGBTQ youth. Herndon found himself back at No. 1 in 2020 – this time on iTunes with his remake of "Orphans of God," a collaboration with Kristin Chenoweth and Paul Cardall featured on his holiday release, Regifted. Herndon's voice is stronger than ever, and he's using it to make a difference. In addition to his own foundation, Herndon lends his time and talent to MusiCares, which has supported Herndon through his struggles and supports those in the music industry with a safety net of services. In 2022, he joined Pivotal Moments Media as a Brand Ambassador and as the first artist signed to the organization's record label, Pivotal Records.
For more information on Ty Herndon, please visit TyHerndon.com, and follow him on Instagram @tyherndonofficial, Facebook @Ty Herndon, and Twitter @TyHerndoncom.