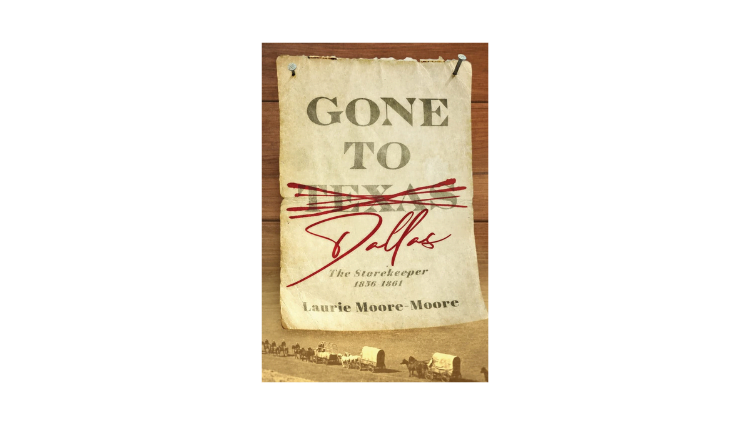 Texas-Tough Pioneer Woman Takes the Reins in Gone to Dallas
It seemed so romantic — and now so long ago — when Morgan Darnell had courted Sara in Tennessee, finally convincing her they should marry and join an 1856 "Gone to Texas" wagon train traveling along the "Trail of Tears," through Indian territory, and across the Red River into Texas.
In a twist of fate, Sara arrives in Dallas a 19-year-old widow, armed with plenty of pluck, and determined to open a general store in the tiny settlement of log cabins on the Trinity River. Standing in her way are cattle chasers, buffalo hunters, freighters, lawyers and a bordello madame set on taking over the town. Can Sara pull herself up by the bootstraps and overcome her own uncertainty, vandalism, threats and even being shot?
In Gone to Dallas: The Storekeeper 1856-1861, Laurie Moore-Moore spins a highly entertaining tale of migration, betrayal, dreams and determination, salted with historically accurate events and populated with real characters. It's Portis' True Grit meets Harrigan's One Great Thing, A History of Texas.
Readers will follow Sara as she strives to create her store while living Dallas' true history — from the beginnings of La Réunion (the European colony across the Trinity) to a frozen river, a grand ball and the mighty fire that burns Dallas to the ground. Dallas is a challenging place, especially with the Civil War looming. Even with the friendship of a former Texas Ranger and Dallas' most important citizen — another woman — is Sara strong enough to meet the challenge? Failure means being destitute in Dallas.

Laurie Moore-Moore was dubbed the "Luxury Real Estate Diva" by the Chicago Tribune during 15 years as founder and CEO of The Institute for Luxury Home Marketing. Previously, she co-founded Real Trends, Inc., a publishing, communications and consulting business. While at Real Trends, Laurie spoke to an average of 10,000 real estate agents annually across North America. She is the author of Rich Buyer, Rich Seller — the Real Estate Agents' Guide to Marketing Luxury Homes.