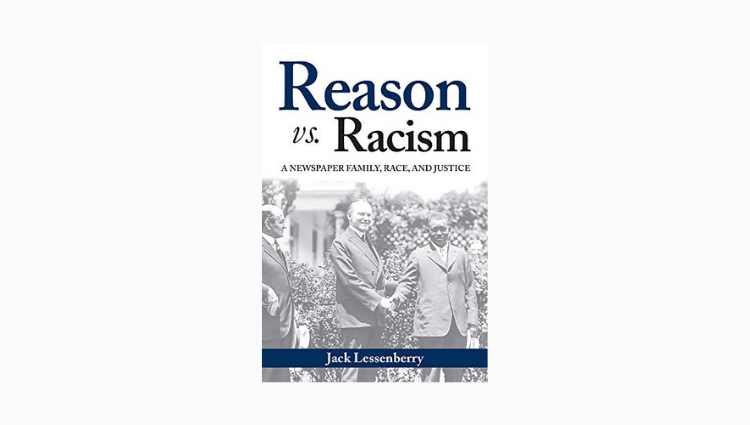 Rare Exposé into Newspaper Family Traces Journalism's Treatment of Racial Issues Over Last Century
Back in the sweltering summer of August 1937, national reporters swarmed over Alabama, chasing rumors that U.S. Supreme Court Justice Hugo Black was a member of the Ku Klux Klan.
Ray Sprigle of the Pittsburgh Post-Gazette — perhaps history's only investigative reporter who was also a chicken farmer — took a different approach. He did his homework, and went to see a Klan leader who wanted to set his "no 'count son" up with a flock of chickens.
After chewing tobacco and debating the merits of Leghorns vs. Wyandottes, the Klansman opened his safe and gave Sprigle proof that Black was a life member of the Klan. Sprigle got the story … and a Pulitzer Prize.
Reason vs. Racism: A Newspaper Family, Race and Justice is a fascinating, unique exploration into one of America's last remaining newspaper families and its century-plus long struggles with racial issues. The Block family, which today publishes newspapers in Toledo and Pittsburgh but once had papers in many other cities, asked longtime journalist and author Jack Lessenberry to take a deep and comprehensive look into their company's record on race — and granted him carte blanche.
Lessenberry reveals fascinating stories that deserve to be better known, such as the story of Tom Lee, a poor Black laborer in the Deep South who heroically saved the lives of more than 30 white people in Memphis in 1925. Company founder Paul Block praised him in his Memphis newspaper and took him to meet President Coolidge — and was promptly run out of town by irate white racists.
Most poignantly, a Pittsburgh Post-Gazette reporter risked his life to live as a Black man in the Deep South in 1948. The series and book that followed were a journalistic feat greater than the best-selling Black Like Me more than a decade later. But a racist Southern editor prevented his work from winning the Pulitzer it deserved, and tried to make sure as few people as possible read reporting that might have helped spark the Civil Rights movement earlier than it began.
In an era marked by intense controversy over how media cover race, this groundbreaking book is an important and compelling addition to the debate.
About the Author
Jack Lessenberry has been a writer for many national and regional publications, including Vanity Fair, the New York Times, the Washington Post and the Boston Globe. He is a contributing editor and columnist for the Toledo Blade, and occasionally other newspapers, and is the co-author of the book, The People's Lawyer, The Life and Times of Frank J. Kelley, the Nation's Longest-Serving Attorney General, published by Wayne State University Press
He lives in Huntington Woods and Charlevoix, Michigan, with his partner in life, Elizabeth Zerwekh, a highly skilled archivist whose research contributed greatly to Reason vs. Racism. The couple shares their homes with dogs Ashley and Chet, and entirely too many and not nearly enough books.
To know more about Author Jack Lessenberry, please visit https://lessenberryink.com/,