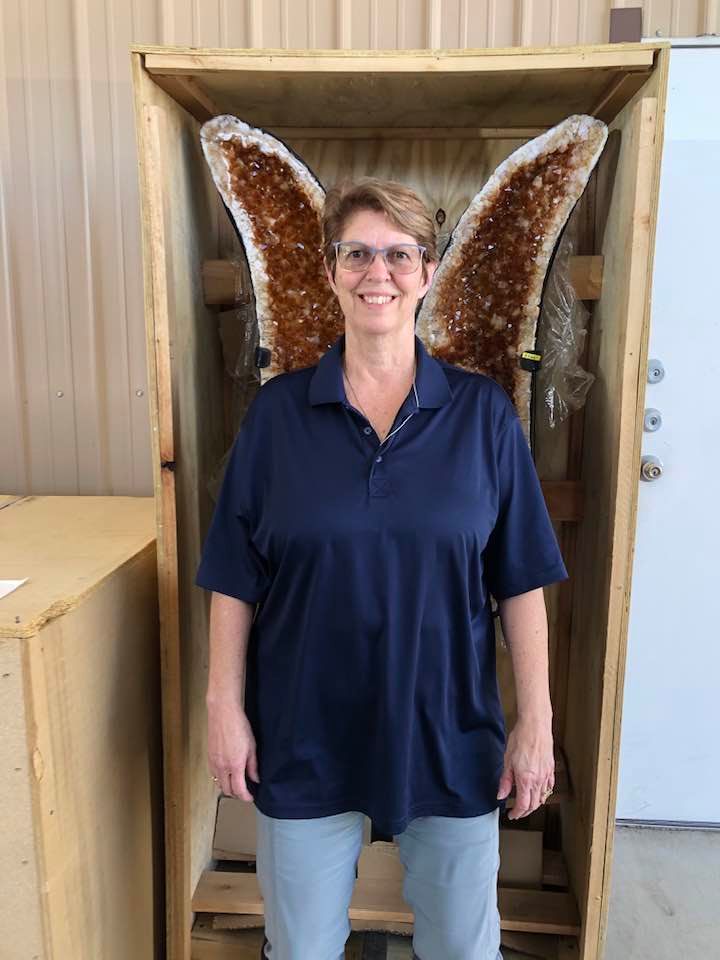 Meet Michelle Woodruff, Co-Author Of Awakening Starseeds Series
CONGRATS ON RELEASING YOUR LATEST COLLABORATIVE BOOK, AWAKENING STARSEEDS VO. 3, DREAMING INTO THE FUTURE. WE'D LOVE TO KNOW MORE ABOUT YOU AND YOUR WORK. HELLO MICHELLE WOODRUFF, WELCOME TO WORLDAUTHORS.ORG! PLEASE TELL US ABOUT YOURSELF (AND YOUR WORK):
I have a diverse background in both art and science. The place I am today was set in motion over 30 years ago when I obtained my dance and psychology degree from Webster University. Others would describe me as "unusual," "different," or "mysterious." All of which were accurate. I have had multidimensional contact since I was a child; the earliest I can recollect was in fourth grade. However, I came into this life with my memories of "heaven" or "other lives" or "other dimensions" intact, but I quickly realized that wasn't the case for others. My mother always described me as "different," but in a good way. She always supported my "senses" or abilities.
I worked in traditional healthcare for 30 years, effectively bridging transitional and complementary approaches to healing. For that, I earned the name "the witch doctor," but with that title, I earned the respect of other healthcare providers as they knew I was "connected" to more healing sources than their education. So my background is diverse: a BA in dance (where I trained in somatic or body approaches), psychology, and physical therapy.
PLEASE TELL US ABOUT YOUR CHAPTER IN AWAKENING STARSEEDS: VOL. 3:
I have observed with clients during bodywork sessions lately that many of them have an internal, innate ability to heal, and much of this is movement driven. My clients felt compelled to "remain still and silent" during sessions, even if their internal healing ability was directing them to move.
In a synchronicity manner, I was introduced to Seiki Tapping-Healing through Movement. In this chapter, I discuss the unfoldment of this process and my call to teach it to others.
Seiki Tapping-Healing through Movement is a body-based movement approach that raises non-subtle energy for healing. Most people ask me, "What Is Seiki?" In his book Seiki Jutsu, Bradford Keeney describes what this internal energy looks and feels like. It is an intense energy that can drive you to dance, shake, yell, clap or vocalize. As that energy is recognized and allowed to move through the body, it aligns the energy system and stimulates the innate healing ability from within. Many people are familiar with the term "Reiki," which introduces subtle energy from an outside source.
In comparison, Seiki is non-subtle energy that rises from within a person to stimulate healing. It would help if you looked at all the dance Tik Tok to see Seiki at work. Seiki Tapping permits a person to follow their healing guidance, no matter how bold it may be, because it's what that person needs. It can vary from person to person. It may be small hand movements in the air for one person. It may be hip gyrations for another. It may be clapping and yelling for another. The key to Seiki Tapping is to assist the client in identifying their Seiki expression, so their body can heal. Indigenous healers have been doing this for centuries.
WHAT DOES A STARSEED MEAN TO YOU?
I feel there are more Starseeds than we are aware of. I feel we all have Celestial origins but may or not be aware of this. Starseeds are consciously aware, although I feel we are all Starseeds. Some are intended to be aware, and some are not, based on their particular soul lesson at this time.
WHY DID YOU CHOOSE TO BE IN THIS BOOK?
I want people to know that their internal ability to heal may be a form of quiet meditation and to recognize it and go with what they feel they need-even if others have told them that healing has to look and feel a certain way.
WHY DO YOU THINK THESE KINDS OF BOOKS ARE IMPORTANT AT THIS TIME?
Because everyone needs to know that their experience may differ from the norm and that there are many ways to follow your path.
WHAT DO YOU THINK READERS CAN GET OUT OF THIS BOOK?
The comfort of knowing that all these experiences are different, that they are all about growth, and are all valid. It validates the reader's experience. In turn, it guides readers to follow their path confidently because others have "put themselves out there" regardless of what others think of them and their experience.
WHAT DO YOU LIKE ABOUT WORKING WITH RADHAA PUBLISHING HOUSE?
The camaraderie of connecting with others sharing similar experiences and, included in that, having the courage to continue despite any scrutiny from others.
HOW CAN PEOPLE FIND YOU AND WORK WITH YOU IN YOUR PRACTICE?
I opened Myofascial STL Plus-a Center for Complementary Health Services, where traditional healthcare, complementary healthcare, and intuition intersect. We offer Integrative Bodywork and Seiki Tapping-Healing through Movement and Esoteric Services such as Energy Health Readings and Akashic Readings.
ARE YOU WORKING ON ANYTHING AT THE PRESENT YOU WOULD LIKE TO SHARE WITH YOUR READERS?
I have just completed a My Akashic What? Memoirs, a book that details my childhood and young adulthood connections with other dimensions. I discuss my spontaneous opening to reading Akashic Records and how I have always been connected to and communicated with angels, nature spirits, deceased loved ones, guides, masters, and teachers, to name a few. I write about what it was like growing up with these abilities and the struggles and triumphs of that experience.
You can find more at: Magicmichellewoodruff.com or myofascialstl.com.
To learn more about Radhaa Publishing House, or be an author in any upcoming books, including Awakening Starseeds: Vol. 4, Solutions for a Better Future please visit: linktr.ee/RadhaaPublishingHouse.