"Literate-Folk" Pop Singer-songwriter Arielle Silver Releases Stunning Journey Across American Roots Music With Fifth Album Watershed
Today LA based folk-pop artist and singer-songwriter Arielle Silver has unleashed her anticipated fifth album Watershed, a ten-song journey that travels and traverses the valleys of American roots music. Rich with imagery and overflowing with empathy, vulnerability, and insight, Watershed showcases Silver's abilities in crafting deeply considered songs, each carrying a specific goal in connecting with the listener.  Conceived in the quiet of the pandemic quarantine, Watershed takes its title as much from that watershed moment in time as it does from the North American spaces where the story-songs take place. 
Renewing and reflective, water runs through many of the songs as crosscurrents that connect ideas to experiences, people to places, and the self to one's surroundings, whether that be a physical or spiritual. Praised for its range across genre and subject matter, Watershed never sits still with its sound; from Americana to folk rock, blues to rockabilly and more, the album's diversity in style keeps listeners engaged, and eager to dive into the reflective narrative-driven movements Silver expertly crafts.
Album opener "Soft on the Shoulder" finds inspiration in the Laurel Canyon music scene of the '70s (and particularly in Stephen Stills "For What It's Worth"), in the cultural activism that came about following the murder of George Floyd, as well as the Black Lives Matter movement during this time. "I was reflecting on the place of music amid cultural change and its place in political activism and social engagement," says Silver in the song's premiere with The Bluegrass Situation. "I was also thinking about the ways that I – as a white-presenting woman – have unwittingly participated in systemic wrongs. While initially inspired by thoughts sparked by the BLM movement, this song applies to any personal or cultural circumstance where we are asked to examine our long-held beliefs and consider another person's perspective." 
"I try not to fear thoughts of change sought for old flaws / my heart might not want to feel / but we can never heal / what we keep concealed," Silver sings overtop of gorgeous acoustic and electric guitars, pedal and lap steel, and dualing piano and organ layers. This vulnerable, inward looking approach is a stunning example of Silver's process and priorities as a songwriter and artist, and can elsewhere be found on songs like "Bramble Vine," "Ghost Ships," and "Rickie Lee." Pulling from past experiences and relationships, settings and muses, Silver opens herself up in these stories and emotional musings that get to the heart and soul of the human condition.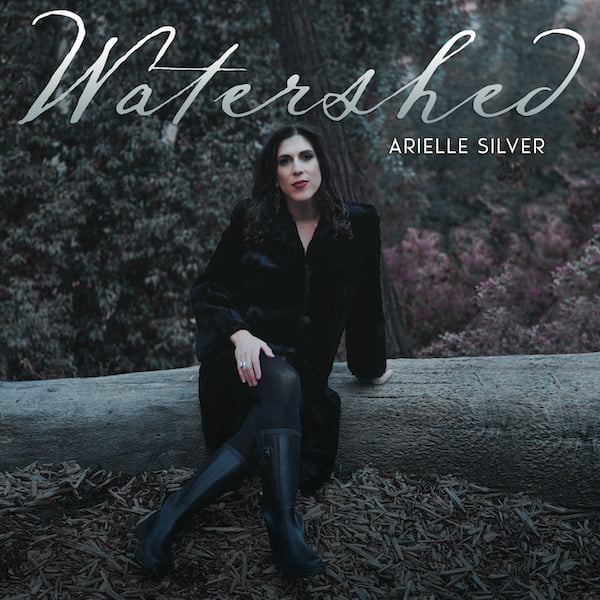 "Worth Waiting For" finds inspiration in a line from Gut Symmetries, by contemporary British novelist Jeanette Winterson. "I will love you as a dog loves chase or I will not love you at all." A romantic indie pop love song that draws from the day Silver met her husband, the song further shows how Silver pulls from memory and experience to elevate these very human emotions. "Baby, you're not a trinket, a trophy / a token to show on my hand," she sings over warm guitars, Mellotron, and cello solo. 
Earning praise from publications including The Bluegrass Situation, Americana Highways, Twangville, Americana UK and more, Watershed marks an achievement in Silver's already decorated repertoire. Working with kindred spirit and producer Shane Alexander, who produced Silver's previous album (and return to music following a ten year hiatus) A Thousand Tiny Torches, the two were able to capture Silver's creations to stunning effect.
A literary mind who cites inspiration in writers like Strayed, Jane Austen, Jeanette Winterson, and Mary Oliver (to name a few), Silver's lyrics read like moving self-contained stories, and are further elevated by her striking instrumental and vocal performances. These songs are further emboldened by various mantras, philosophies, and teachings Silver has carried throughout her work as the founder of Bhavana Flow Yoga studio, as well as a Creative Writing adjunct faculty at Antioch University. Her approach as a literary writer cross pollinates her songwriting, and informs her goals in reaching the listener or reader.
When writing, Silver asks herself "what is the mission for this song in the world? If I'm going to spend time creating a song, and people are going to listen, why is it worth their while? Where's the real treasure in this song?"
Silver will be celebrating the release of her album at the Hotel Cafe in Hollywood, CA tonight, where she will be performing material from the album with her full band for the first time. Rounded out by a group of accomplished musicians and performers, including producer Shane Alexander, Darby Orr (Gary Myrick, David Newman), Carl Byron (Michelle Shocked, Rita Coolidge, Hot Club of Los Angeles), Kevin Stevens (Michael Stipe, Natasha Bedingfield, Shakira), and guest cellist Rob Hodges, attendees can expect a special one-of-a-kind performance to celebrate Watershed's release to the world. With special guests Alice Howe & Freebo, the Watershed release party will kick off on the Main Stage at 6:30pm.
"I approach my live shows the way that I approach writing on the page," says Silver when asked about how she prepares for her performances. "When I'm performing, I think about the spaces between the songs as similar to the whitespace on the page, and think about what the purpose of that space is. I try to create an arc for the show not only energetically, but also from a narrative standpoint. How do these songs fit together? How does the story relate to the performance as a whole?"
Silver serves as the President of FAR-West (Folk Alliance Region West), where she fosters and promotes the work of artists, songwriters, and more across traditional, contemporary, and multicultural folk music, storytelling, and performing arts. She additionally serves as a key team member for the SONA Foundation, a charitable organization that supports songwriters and music creators through resources, programs, and grants for career development, mental health, and financial wellness.
Born on Florida's Gulf Coast and raised along the Atlantic seaboard, Arielle now lives just a traffic jam away from the Pacific Ocean in her adopted home of Los Angeles. Memories of places and times serve as touchstones through her songs, as does the troubadour music traditions that she heard from her guitar-strumming architect father. Throughout her music and storytelling runs an ethic of care, along with an essential wellspring of interpersonal relationships and ecological notice.
In addition to her record release show in Los Angeles, Silver will be hitting the road this fall for her East Coast tour. 
WATERSHED Tracklist
1. Soft On The Shoulder
2. Bramble Vine
3. Rickie Lee
4. Ghost Ships
5. Asteroids Chaos
6. Worth Waiting For
7. Miracle
8. Clipped Wings
9. Riverdock At Sunset
10. Bottle Up Tonight
Keep Up With Arielle Silver on Press Materials – Dropbox @Arielle Silver, website ariellesilvermusic.com, Instagram @ariellesilver, Facebook @Arielle Silver Music, Twitter @relsilver, Spotify @Arielle Silver and Apple Music @Arielle Silver