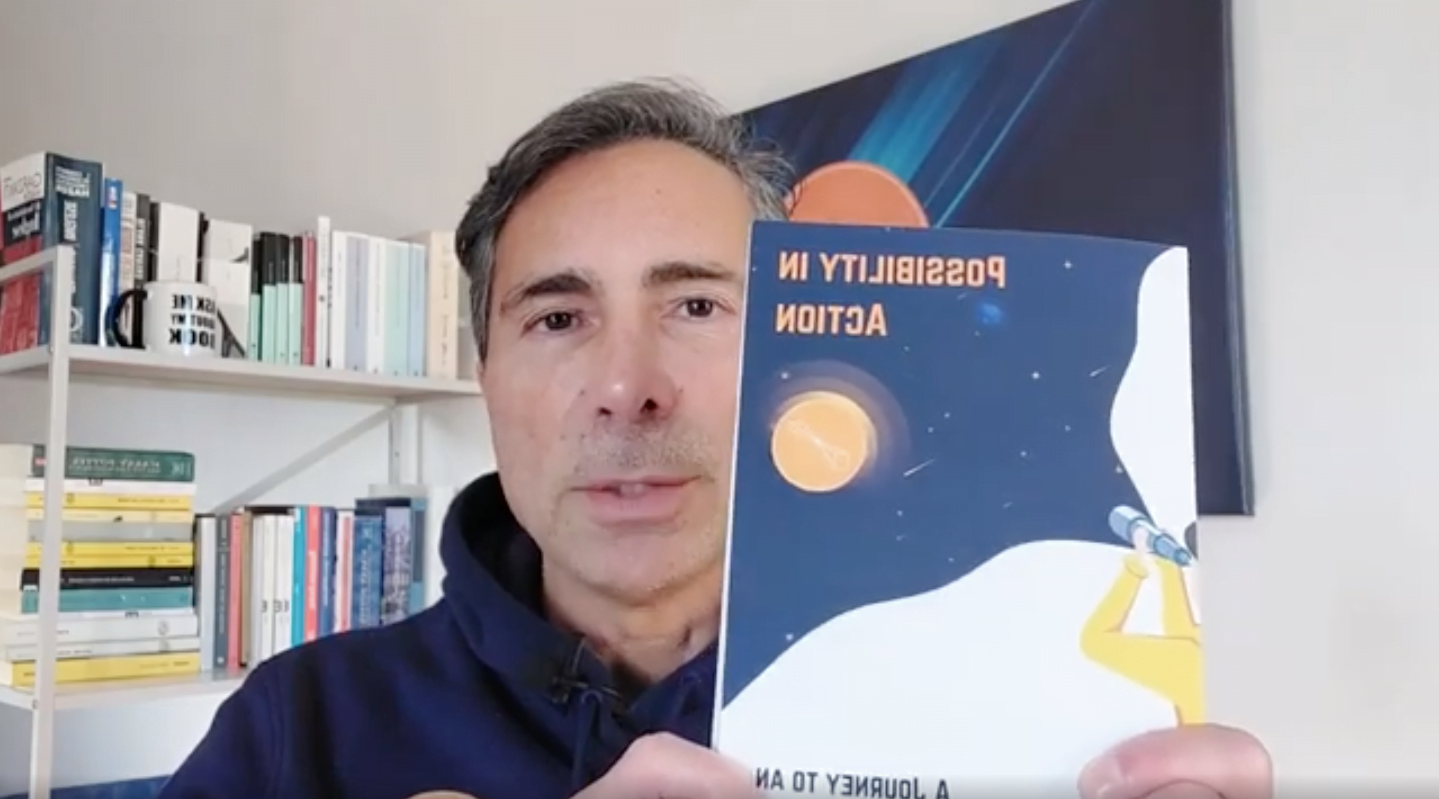 Listen Blurb: Possibility in Action by Robert Pardi
Change and uncertainty hold within them unlimited possibilities.

Do you want more out of life?

The truth is you can rewrite your story whenever you want and become the main character of your life through the experience of self-discovery. It just requires you to stop rereading your current chapter and turn the page.

This book is for anyone who feels that there is something more out there.

Do you feel aimless or lost? Maybe you have been thinking, "Is this all there is to life?" Perchance you are saying to yourself that life should not be so hard. Might it be that you just have been feeling a nudge to look at things a different way or live differently? Perhaps you sense being in a gap between what is and what could be? Could it be that you are looking for a simpler life? Does it possibly have something to do with finding purpose? Are you searching for work-life balance? Spoiler alert, balance does not exist, but harmony does.

I was blessed to be stretched by people that did not teach me but, instead, got me to look at things differently and that changed everything. My wife's oncologist was one of the many that stretched me out of my habitual thinking. As my self-awareness grew, my personal power also grew. I was able to choose how I responded to life. I was able to get out of my own way. In no time, I became the craftsman of my life, and started living life intentionally.

There are no "hacks". Don't fall into gimmicks. There is only work. There are also no quick fixes. In fact, nothing needs fixing. Move away from self-help and move to self-growth! What needs to happen is the liberation of your perspective through self-awareness. Self-awareness is the greatest tool you can possibly develop. It has helped me through the toughest of times, as well as allowing me to leverage the best of times.

Now while you can read every self-development book that exists, it is only when you take action that lasting change can occur. This is a book to be used, not studied. What I am offering are compounding results. This requires time, which is why this book provides you 52 weeks of reflection. It can't be overemphasized that the maximum benefit from this book is for those who will do the work.

The two most powerful questions I've ever asked and continue to ask myself are: "What's next?", and "What if I can pull this off?".

What did those questions create for me? They created movement. They created inquisitiveness about life. They opened me up to wonder and to a world of possibilities. They reconnected me to the power of curiosity. This is not to negate the immensely important power of asking "why" and understanding causes. Yet, without adding a "what" question, we could be trapped in an archeological dig, or constantly looking in the rearview mirror. Asking "what" creates movement towards a new future. It's constructive. That's what I want to show you.

I was compelled to write this book to share moments of reflection I've experienced. I call them musings. Pondering concepts similar to these led me to those wonderful Ah-ha moments that helped wake me up to living my life authentically. I realized curiosity is the key to transformation.

It all starts with understanding yourself and how you think. In other words, it starts with awareness and perspective because you and only you can change your life. Only you can change how you think, how you feel, and how you live.
ABOUT AUTHOR
Robert is one of those rare individuals who embraces change and lives by a philosophy which he calls Possibility in Action™.
Robert Pardi is a three-time Author, well-known compelling International Keynote Speaker, Transformational Life Coach, and Adjunct Professor.
After his young wife passed away from metastatic breast cancer, Robert reimagined his life and decided to leave the world of finance in order to share the many lessons he learned throughout his life's journey. This journey included intentionally crafting the next chapter of his life by dismantling limiting beliefs, interrupting habitual thinking, understanding the story he wanted to look back on, and realizing it is in taking the chance where all our power lies.
Outside of traditional coaching, Robert provides an array of interesting personal growth experiences such as personal growth retreats in Italy, essential living workshops, as well as a unique Grow From Grief Group Coaching program. You can read more about him and his work at www.robertpardi.com
Robert has an MBA in finance from Columbia University. Prior to his dramatic life change, Robert was a Senior Portfolio Manager for the Abu Dhabi Investment Authority, Co-Founder and C.O.O. of Evolvence Capital, and mentor to many young business executives. He has lived in Abu Dhabi, Dubai, Rome, and now lives in Abruzzo, Italy.