Interview with Author Douglas Rappaport
Hello Douglas, Welcome to WorldAuthors.Org! Please tell us about yourself. 
I am the author of four books. My most recent one, Dead People, came out recently. 
I am also a classically-trained musician and former video game producer.
Where are you from?
I grew up just outside of Washington, D.C. although I lived in LA for most of my adult life.
What do you like to do in your spare time?
I usually write in my spare time or play with my dog who is, btw, featured in my new book as one of the main characters.
Can you tell us a little bit about your journey?
I started writing when I was a little kid, mostly writing short stories and eventually a novella. My first novel was published in 2003. Most of my books are novels, with the exception of one non-fiction book, which is mostly about my love life. When I was 9, I started playing violin and   became very serious very quickly, spending most of my childhood practicing and performing violin professionally. 

If you had to describe yourself in three words, what would they be?
Tenacious, ambitious, light-hearted (try not to take life too seriously).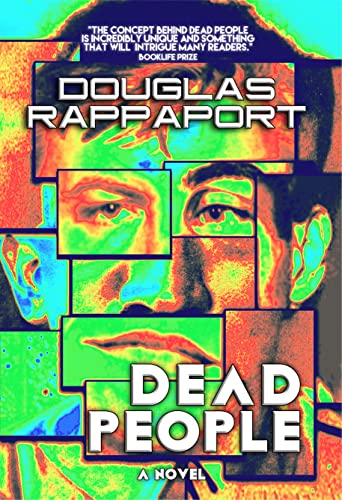 What inspires you?
Books by John Irving and Haruki Murakami. Radiohead and Sigur Ros. Patrick Mahomes and Lamar Jackson (I'm a big NFL fan.)
Share something your readers wouldn't know about you.
I guess they wouldn't know that I was a classically trained musician and former video game producer.
How did you get into writing?
When I was a kid, writing short stories (mostly horror).
Can you tell us what inspired your book/ work and what is the story behind it?
My latest book was inspired by an idea I had several years ago, imagining what the world would be like if dead people from different time periods all came back to life. Then, after writing 3 books, I decided to give this idea a go as a speculative scene-fiction novel, which I had never attempted before. Dead People is about that idea, imagining an alien race visiting the Earth long after humans inhabited it and recreating the world with a smattering of dead people from all different time periods. But by doing this, the aliens also accidentally bring back bad people (murderers, rapists, evil dictators) and need these bad people taken out of this new world. Hence they hire Mild McMahon, a former professional football player, now hitman, tasked with taking out these bad people in exchange for possibly bringing back his mother who wasn't lucky enough to be reincarnated by this alien race.
Are you working on anything at the present you would like to share?
I am working on the second book in the Mild McMahon series, tentatively titled, Do No Wrong.
What are your goals and aspirations? 
To keep writing, being creative, coming up with new ideas and the vehicles to transport those new ideas.
Where can our readers connect with you online?
I'm still working on my author site, so in the meantime, listeners can connect with me on Facebook, LinkedIn and Instagram.