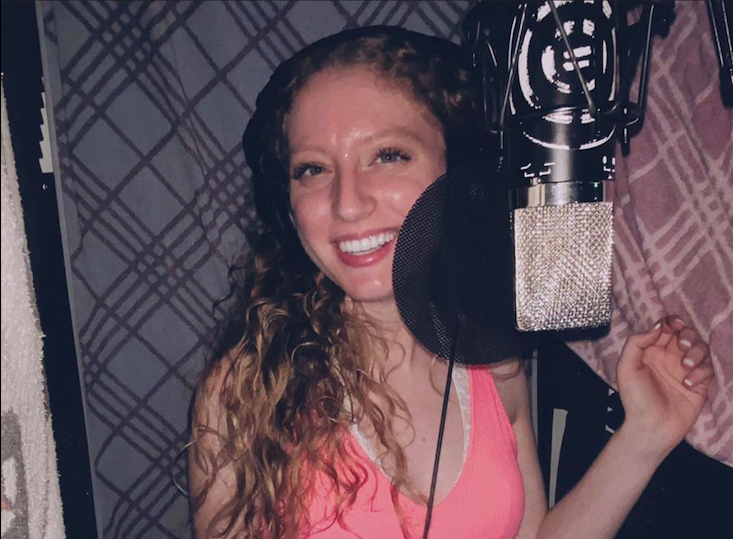 Interview: Singer-Songwriter LO LA
LO LA PLEASE TELL US A LITTLE BIT ABOUT YOURSELF, WHAT IS YOUR MUSICAL BACKGROUND? DO YOU HAVE A MUSICAL FAMILY OR DID YOU JUST FALL INTO SONGWRITING ALL ON YOUR OWN?
Ever since I can remember, I've always loved singing and listening to music. I grew up doing musical theatre, but after years of musicals, I realized I favored the singing aspect of musicals over everything else! During high school, I was in multiple school-run pop/jazz bands. In those bands, I met songwriters my age who inspired me to try songwriting! I ended up really loving it and now writing music and brings me so much joy. When I was 17, I performed a duet of "Can't Take My Eyes Off You" by ​Bob Crewe and Bob Gaudio (originally sung by Frankie Valli) at a school music festival. While performing the song​, right before the last chorus, I had an "out of body experience." I looked around at my friends backing me up, at my best friend who was singing with me, and at my peers in the audience who were cheering us on, and I truly felt like I was floating. It was so surreal. After that performance, I knew that singing and performing were what I had to do for the rest of my life. I wouldn't be happy doing anything else. It was the greatest feeling! Nowadays, there's rarely a day I go without singing and songwriting.
WHAT INFLUENCED YOU TO BE A SINGER-SONGWRITER/WHO INSPIRES YOUR PLAYING STYLE? WHICH ARTISTS CAN WE REFER TO?
The Beatles are my biggest musical influence. I fell in love with their sound, harmonies and lyrics when I started writing music at 16. The biggest compliment I have received regarding my original music is that "it reminds people of the Beatles." Meeting Ringo Starr on his birthday in 2019 was one of the highlights of my life so far. Other musical influences include Queen, Tyler the Creator, Boy Pablo, Rex Orange County, & and Lily Allen. Without these artists, my songwriting definitely wouldn't be as it is today. Without the Beatles, I don't think I would've become a songwriter!
WHAT IS YOUR TYPICAL SONGWRITING PROCESS?
There's several different ways I songwrite. I would have to say that a majority of the time, I usually have a concept on my mind of what I want to write about, and then I'll turn on voice memos on my phone, and just play random chords and freestyle lyrics over them. I usually get at least one or two good lines from doing that and then I'll write a song based off of those lyrics and chords I come up with. Other times, a melody or a line pops into my head and I'll write off of that. Sometimes, my friends will send me beats to write on too. That's how I wrote my most recent release "Cherries & Lemonade."
HOW LONG DOES IT TAKE FOR YOU TO WRITE A SONG?
I don't really have a specific answer for this one! Every song I write takes a different amount of time to write! Sometimes I'll spend months on a song until I'm happy with it, but sometimes it only takes me under an hour! It really just all depends on how I'm feeling in the moment. Sometimes I feel super motivated to write, but other times, it's harder to feel inspired. Other times, I'll start a song, but won't look at it again for a couple of months. It's always fun when that happens, because I look at songs like puzzles, and the only way I'll be happy with the songs I write is if I fill in the missing pieces. Sometimes, I feel like I'll never find them, but then I'll have a life experience that allows me to finish unfinished songs months later! It's so rewarding!
DO YOU HAVE ANY ADVICE FOR ASPIRING SONGWRITERS?
Never stop writing! When I first started writing, I kept getting really discouraged because I would think I came up with a great original song, only to realize that the melody had been used before! This happened to me for years and I felt like it was impossible to come up with an original idea. It was also super discouraging watching so many artists around me constantly releasing such unique and amazing songs while I couldn't seem to be able to come up with one! I never gave up, though! I kept on writing and writing, and finally, when I was 16, I came home from high school after having a bad day, and instead of getting upset about it, I sat down with my ukulele and channeled my emotions into a song! I was so happy with it, and from then on, I started writing more and more songs. It was like that one song had opened up a world of songwriting for me and helped me realize how to channel my emotions into the songs I write.
WHERE CAN OUR READERS FIND YOU ONLINE?
Instagram: @musicbylola_
Twitter: @musicbylola_
Facebook: @musicbylolaaaa

Link to all of my music (YouTube, Spotify, Apple Music, Deezer, etc…) https://linktr.ee/musicbylola_