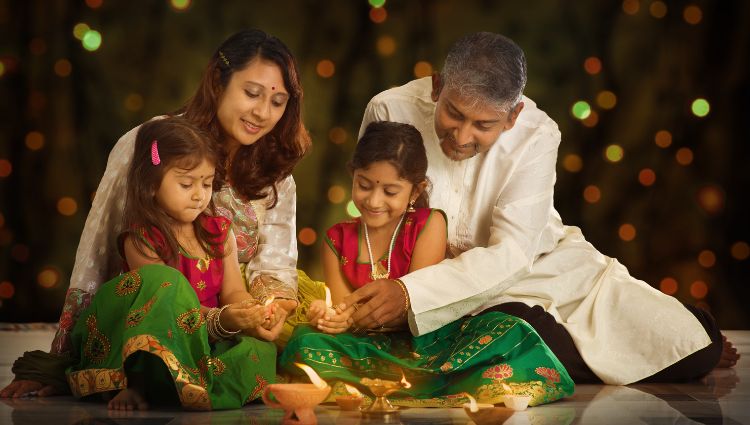 Diwali Wisdom for Little Ones: A Must-Read Collection
These titles aim to convey the idea of essential and engaging books for children to learn about Diwali, emphasizing the educational and enjoyable aspects of the recommended reads.
Diwali, the festival of lights, holds a special place in the hearts of millions around the world. Beyond the shimmering diyas and the festive sweets, Diwali celebrates culture, traditions, and the triumph of light over darkness. Several authors have beautifully captured the essence of Diwali in their works, creating a literary tapestry that reflects the festival's diversity and significance. Let's explore famous books that bring Diwali to life through captivating narratives.
"Amma, Tell Me About Diwali!" by Bhakti Mathur: An enchanting children's book that follows the journey of a little boy curious about Diwali. Through vivid illustrations and simple storytelling, Mathur introduces young readers to the traditions and stories behind the festival.

"Diwali: A Cultural Adventure" by Sana Sood and Puneet Sood: This informative book provides readers with a cultural exploration of Diwali. It delves into the festival's significance and how it is celebrated across different regions and communities, offering a broader understanding of its diversity.

"Let's Celebrate Diwali" by Anjali Joshi: Aimed at a young audience, this book beautifully captures the excitement and joy of Diwali celebrations. It introduces children to the customs and rituals associated with the festival in an educational and entertaining way.

"Diwali: Festival of Lights" by Rina Singh: Rina Singh's visually appealing book explores Diwali's cultural and historical aspects. Readers gain insights into the festival's traditions and significance through vibrant illustrations and engaging narratives.

"Rani Saves Diwali" by Anita Badhwar: In this charming children's book, readers follow the adventures of Princess Rani as she embarks on a mission to save Diwali for her kingdom. It weaves together a delightful tale while incorporating key elements of the festival.

"Diwali Lights" by Rina Singh: Another gem by Rina Singh, this book celebrates the diversity of Diwali celebrations. The book highlights the various ways the festival is observed through the lens of different families, emphasizing unity in diversity.

"Lights for Gita" by Rachna Gilmore: This heartwarming story revolves around a young girl named Gita as she learns about Diwali and discovers the true spirit of the festival. It beautifully captures the essence of sharing, compassion, and family bonds.

"The Diwali Gift" by Shweta Chopra and Shuchi Mehta: Centered around the theme of giving, this touching story explores the profound impact of a Diwali gift that goes beyond material possessions. It teaches readers about the importance of kindness and empathy.
These famous books capture Diwali's vibrant spirit and serve as windows into the rich cultural tapestry that defines the festival. Whether for children or adults, these literary works provide a deeper understanding of Diwali's customs, traditions, and values, making them cherished additions to any reader's collection during the festive season. As we celebrate the triumph of light over darkness, these books illuminate our minds and hearts, fostering a deeper appreciation for the beauty of Diwali.